Crawlspace Mold Removal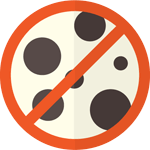 Ottawa & Montreal
Crawlspaces are typically small and hard to access, which makes them difficult to dry after any type of moisture intrusion. Given that mold can develop within 24 hours of a leak, crawlspaces are extremely vulnerable to mold problems.
Many people wonder why they should spend money on crawlspace mold removal if they never use the space in the first place. The answer is simple: mold releases allergens into the air, which can move from room to room via your HVAC system and cause respiratory difficulties, severe allergies, and other health problems.
Moreover, crawlspace mold can lead to structural damage to your home that can be dangerous and expensive to repair. That's why it's important to address mold problems as soon as you find them.
For professional crawlspace mold removal in Ottawa and Montreal, call Mold Busters today.