Inspection and Removal Equipment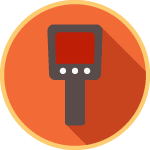 Quality equipment is essential for the success of any mold inspection or remediation project. It ensures that every mold spore gets counted and that all of the contaminated materials get cleaned thoroughly.
At Mold Busters, we use only the best mold inspection and removal equipment. Watch our video or scroll below to learn more about all of our go-to tools for mold remediation.