Mold Testing
Professional Mold Testing Services
Why Test Your Home for Mold?
Professional mold testing has several purposes. One of the most common reasons people decide to get a mold test is persistent odors and visible discoloration on walls and other surfaces. Others experience sudden symptoms such as coughing, sneezing, and headaches.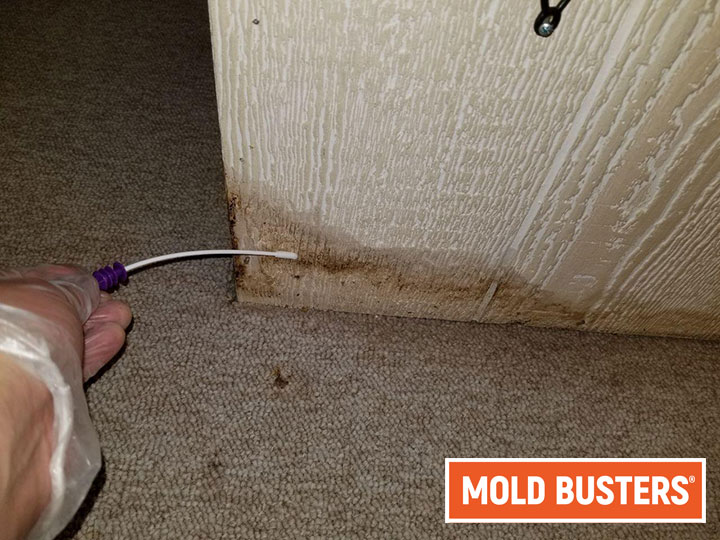 There are many different kinds of mold–black, white, orange, pink, green, etc. It's extremely difficult to identify just by looking at it. The best way to find out if you have a mold problem is to get a professional mold test.
Getting your home tested for mold will give you important information about the health of your indoor environment. You'll be able to:
Assess fungal ecology
Confirm the presence of mold
Identify the types of mold present (including black mold)
Locate the source(s) of moisture
Evaluate the extent of the contamination
Assess health risks
Plan a mold remediation
Provide evidence for insurance claims/litigation
Pass clearance testing (to verify job completion)
I already know I have mold. I don't need a mold test.
Even if you're sure that you have a mold problem, a mold test will help guide your mold remediation strategy. If you're hiring a professional mold removal company to do the work, the technicians will use the test results to plan the scope of work and determine appropriate protective measures.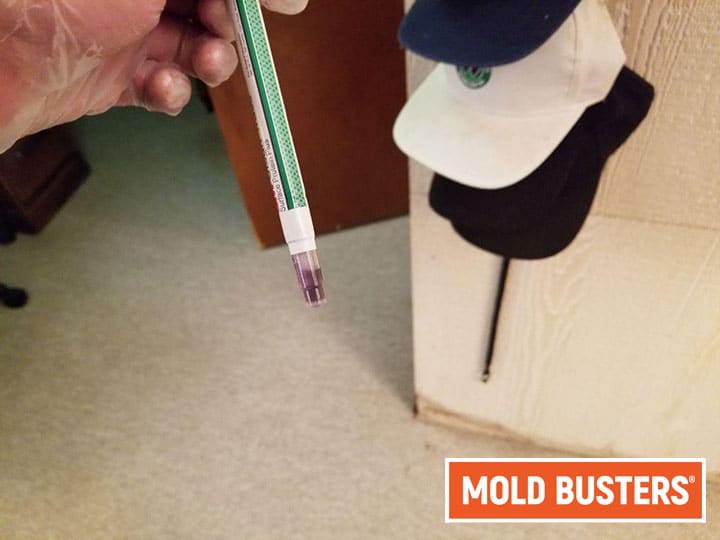 Mold testing can also come in handy when you're buying a home and want to ensure no hidden mold problems. Standard home inspections typically do not include any testing or analysis for mold. Furthermore, home inspectors are not required to have any mold training or certification. They can easily overlook subtle signs of mold that a certified mold inspector will easily catch.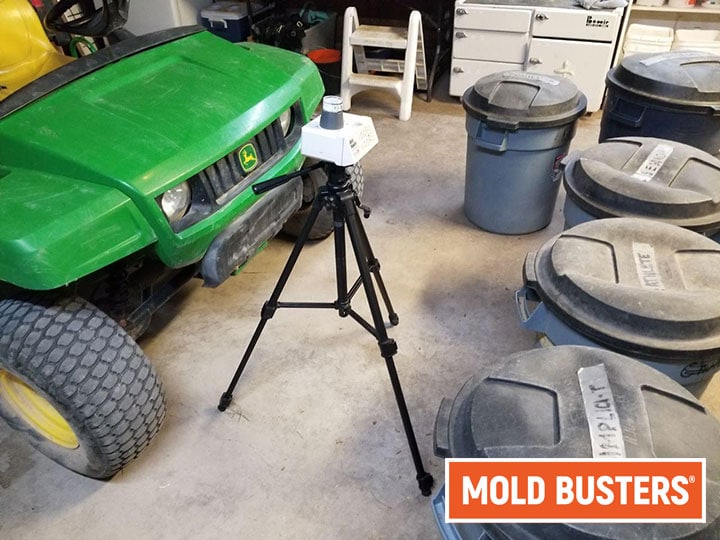 With an air test for mold, you'll also find out exactly what type of mold is growing in your home and how bad the contamination is.
Call Mold Busters now to book your home mold test in Ottawa, Gatineau, or Montreal.
The Environmental Relative Moldiness Index
---
The Environmental Relative Moldiness Index (ERMI) is an indoor air quality testing method developed by the U.S. Environmental Protection Agency (EPA) together with the U.S.
Read more: ERMI Test
How Does Mold Testing Work?
Mold detection is a broad term that encompasses a physical mold test and the entire process of inspecting for mold. Often this includes a visual inspection of the area or a thermal imaging scan. The mold inspector will look for potential sources of moisture in your homes, such as damaged plumbing and leaking roofs. Basements and crawlspaces are also equally susceptible to moisture buildup and standing water.
During this process, the mold inspector may take a mold test if the situation calls for it. For example:
If there is an odour present in the room but no visible mold growth
If the inspector finds a discolored material and wants to confirm it's mold
If water damage is uncovered and the indoor air quality needs to be checked
Maintaining healthy indoor air quality
Some homeowners opt to monitor the air quality inside their homes regularly to prevent mold from becoming a major threat. In this case, mold testing is the perfect tool because it's fast, easy, and gives you an accurate picture of your home's indoor air quality.
Do mold test kits work?
Unless you are an indoor environmental professional, you should avoid direct contact with mold. Period. DIY mold testing can release potentially toxic mold spores into your air. Not to mention putting yourself at risk of exposure.
In addition, samples collected using at-home mold test kits are often not handled properly, cross-contaminated, and unreliable.
Finally, professional mold services don't focus just on the testing mold but also on addressing its causes. Your DIY kit may reveal a problem, but it will not tell you the safest and most effective way to get rid of it.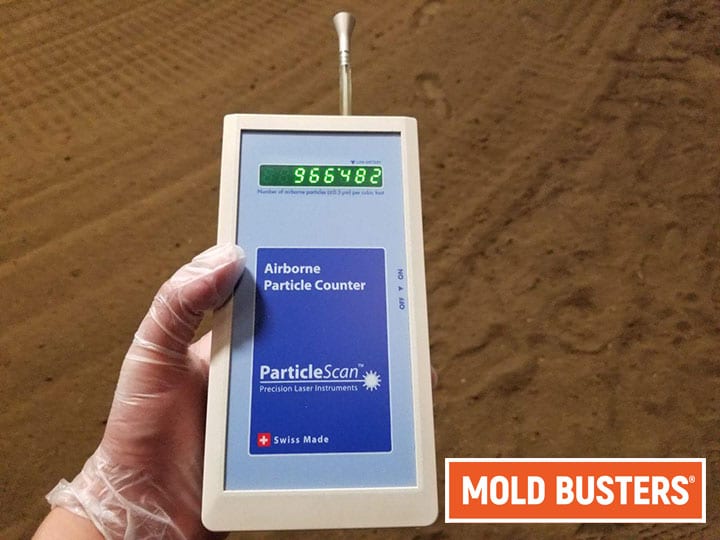 Surface Sampling
---
The purpose of mold surface sampling is to determine whether or not a suspected surface (visible black spots, water stain, discoloration, etc.) is contaminated with mold—not to assess indoor air quality.
Read more: Surface Sampling
Mold Busters Celebrates 15+ Years in Mold Testing Business
Mold Testing Near You
We are working tirelessly during the COVID-19 pandemic to ensure that all our home inspection services across Ottawa and Montreal remain available. Here is an updated list of our service areas that will continue to serve for the time being:
Ottawa Service Areas
Montreal Service Areas
Get Best Customer Service in Mold Testing Industry
---
We are always innovating and looking for ways to make our services more accessible to you. We have our En-Route System for real-time tracking your inspector's arrival time. This means you get answers within hours of your appointment. We also have dedicated Customer Solutions Providers working on your reports and mold tests results.
FAQ
There are many ways to test for mold. The methodology will depend on the required information, the state of the environment or material of concern, and the requested turnaround time for results. Here is a summary of the most common ways to test for mold:
Air testing (viable & non-viable sampling)
Surface testing (tape lifts & swabs)
Bulk testing (physical material sampling)
Diagnostic testing (instant protein analysis, VOCs)
Visual observations (from a trained inspector)
There are pros and cons for each of the testing methods. If you want to know what species of mold may be growing on your wall, a
cultured swab
or tape lift test may be your best bet. If you want to know whether that odor in your basement is related to a hidden mold issue, perhaps
air testing
will be the way to go. Each case should be individually assessed. It is always recommended to hire a trained indoor environmental professional to help you decide on the right mold test for your situation and ensure accuracy in the sampling process.
Mold testing is often necessary when there are no visible signs of mold growth or to validate that an area has been successfully decontaminated. Other circumstances that make mold testing necessary are court cases where third-party proof is required to support one's argument or when a physician may suspect mold in the home or office as the culprit behind an illness.
As various types of mold tests can be performed, each to be complete will vary. Typically, testing for mold in a residential home can take as little as 5 minutes or be as extensive as 1-2 hours. Depending on the type of test conducted, turnaround times will also vary. Some mold tests are relatively instantaneous; some can have laboratory analyses completed within a few hours. Others may take a few weeks due to incubation periods (i.e., viable mold testing).
Mold testing can be exceptionally accurate under the right conditions. These conditions include:
The experience of the indoor environmental professional
The state of the sampling medium & calibration of the sampling equipment
The type of test being performed (i.e., surface vs. air)
The type of analytical data being requested
The state of the indoor environment at the time of the assessment (i.e., active construction dust or moisture issues may affect the results).
Costs for mold testing can vary and are often determined on a case-by-case basis, depending on the client's needs. Here are some examples of variables that can affect mold testing costs:
The type of mold test being performed
The number of samples being collected at the time of the assessment
The requested turnaround time for laboratory results (rush fees charged by the laboratory can greatly inflate the price)
Other fees associated with the company or indoor environmental consultant's time, travel, or administrative fees
Typically, mold testing costs can start as low as $50 to $100 per sample.