Mold Removal in Belleville
Testing, Inspection and Remediation Services
Mold Busters provides fast, effective and affordable air quality testing, mold inspection and mold remediation services in Belleville, and we've been doing so for nearly 10 years.
Our technicians are fully trained and certified at the National Association of Mold Professionals, and they adhere to ANSI/IICRC protocols for mold remediation and water damage restoration.
ONLINE BOOKING
Schedule services online and save!
Get 10% OFF when you
book online using this code:
SPRING-SAVINGSOffer ends May 31st, 2022
Online booking is available for home owners, landlords, businesses & property managers only. If you are a tenant, please call to schedule your appointment.

Mold Busters Belleville Celebrates 15+ Years in Business
The Link Between Moisture and Mold
Mold is a fungus, and like any fungus, it loves wet environments. From mushrooms and yeasts to black mold, you can expect to find fungi growing anywhere that provides moisture, warm temperatures and nutrition. Excellent hosts for mold include wood, drywall and carpets because these materials are rich in cellulose, the ideal food for mold.
Unfortunately, these materials make up a large part of our homes and workplaces, putting us at risk of mold exposure if they ever become wet. The general guideline is to dry wet materials within 24 to 48 hours. Any longer, and you risk the development of mold.
Note: Even materials that look dry can be wet or damp below the surface. This is why moisture meters are a great tool to have when inspecting a home for mold. These handheld devices will tell you how wet a material is; for example, the moisture content of wood should never exceed 16 percent.
Our Services
Our most popular services include:
Mold Statistics in Belleville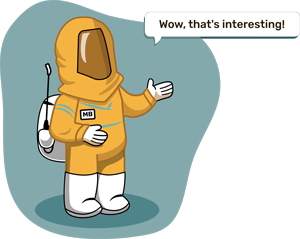 Did you know?
88% of homes we tested in Ontario did have a presence of mold?! Find out more mold stats and facts inside our mold statistics page.
Belleville Mold Remediation
Service Areas Across Belleville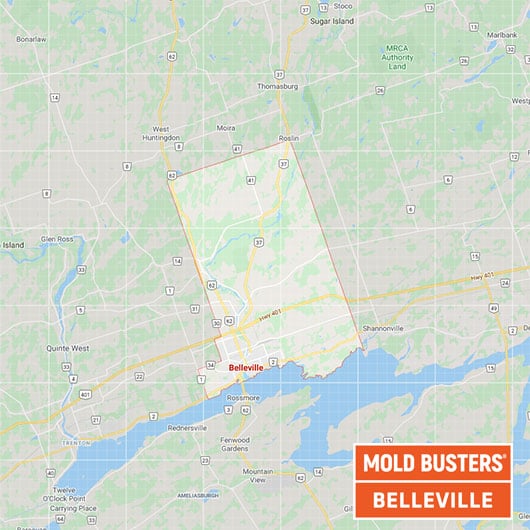 Situated on the Bay of Quinte in southeastern Ontario, Belleville is home to 49,454 residents (2011) and numerous corporations, including Procter & Gamble, Avaya, Sears, Reid's Dairy and Parmalat Canada. With numerous stores and restaurants popping up throughout the city and the charming Prince Edward County across the Bay, Belleville offers the perfect mix of city and country living.
We service residential, commercial, goverment properties and cover these areas across Belleville:
Quinte West
Brighton
Greater Napanee
Picton
Prince Edward
Madoc
Tweed
Roslin
Kaladar
Shannonville
Milford
Glenora
Marlbank
Tamworth
Trenton
Forest Mills
Westplain
Thomasburg
Rossmore
We service rural areas!
FAQ
My attic is practically inaccessible, but I think there might be a mold problem inside because I recently found out my roof was damaged. What should I do?
Don't worry. Attics are a perfect example of how infrared cameras can be used to detect mold…even in inaccessible or hard-to-reach spaces. Basically, infrared cameras measure thermal energy (heat) given off by different objects.
Since mold is a living organism and all living things emit heat, an infrared inspection can easily let you know whether or not you have a mold problem. It will also reveal any water damage or moisture intrusion in your attic.
What's more, infrared inspections are non-contact, saving you time and money because you don't have to cut holes in your walls in order to check behind them for mold.
Contact Us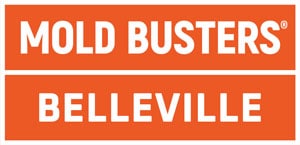 ---
Worried about mold, asbestos or another air quality issue? Contact us:
Reviews from our customers in Belleville