Asbestos Testing Services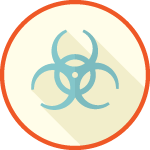 These days, everyone knows that asbestos is a major health hazard that's capable of causing severe diseases like mesothelioma and lung cancer. Unfortunately, not everyone can be as sure that their home is asbestos-free.
Since even short-term exposure to asbestos can cause permanent damage to your health, asbestos testing for your Ottawa or Montreal property is not just important, it's also necessary.
In 2016, the Canadian government announced that it will be banning all asbestos and asbestos-containing products by 2018. However, since this ban is not in effect yet and does not apply to asbestos already in use, asbestos identification and testing is a must for high-risk buildings and products.
If you're worried about asbestos in your home or place of work, call Mold Busters today and book an asbestos test in Ottawa. We also provide complete asbestos testing services and asbestos abatement in Montreal.
*Please remember to shut down all heating, cooling and HVAC systems during an asbestos test to prevent asbestos fibres from spreading and to minimize chances of asbestos exposure.