Odour Removal Services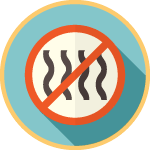 Odours can be tough to remove–so tough, in fact, that many of us simply opt to cover them up with harsh air fresheners rather than kill them properly. This, however, is neither a permanent solution nor a healthy one.
A big part of removing odours effectively is locating the source the odour and dealing with it head on. Common odour-causing culprits include
Cigarette smoke and tobacco
Pets and animals
Food, spices and cooking
Backed up plumbing, standing water and sewage
Appliances
Chemicals and detergents
Exhaust
Bacteria, mold and mildew
Garbage and general uncleanliness
At Mold Busters, we provide effective odour removal for properties of all types. We can even remove odours from cars, boats, mobile homes, trailers, RVs and so much more.
Stop using harsh chemicals that often smell worse than the odour you're trying to cover up. Call on Mold Busters for professional odour removal services in Montreal and Ottawa.