Cold Storage Room Mold Removal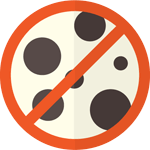 Ottawa & Montreal
Many people are surprised to learn that mold growth in cold storage rooms is actually quite common. Why? Condensation.
When warm air comes into contact with a cold wall, it condenses (changes into a liquid state) and remains on the wall where it promotes destructive wall mold. Poor ventilation and limited air flow typical of cold storage rooms further amplify this problem.
If condensation becomes a regular or ongoing issue, professional cold storage room mold removal becomes crucial.
At Mold Busters, we offer both cold storage room mold removal in Ottawa and cold storage room mold removal in Montreal. We use a variety of high-power cleaning techniques to remove stains, discoloration and the toughest of mold problems from your property. Call us today to talk to a certified mold removal specialist.