Mold Busters Price Match Guarantee!
Top quality service. Unbeatable prices.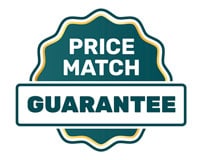 As usual Mold Busters is going above and beyond for our customers, who can now benefit from our Price Match Guarantee.
That's right—we'll match (or beat!) the price of a mold removal estimate provided by another remediation company assuming the proper corrective measures are being recommended.
Providing You with Service You Deserve at a Price You Can Afford
Over the last 15 years, we have watched our clients make the decision to go with a "cheaper" remediation alternative only to regret it and end up paying more in order to fix unnecessary mistakes.
Let's face it, the cost of living is constantly going up, whether we like it or not. But that doesn't mean you have to sacrifice getting quality, premium remediation services for the sake of being economical.
Our commitment to value, integrity and honesty have helped us become leaders in residential mold remediation services throughout Eastern Ontario & Western Quebec. The quality of our decontamination work is unmatched. So, if you're tempted to sacrifice quality workmanship for cheaper rates, don't! We are here to help you.
How It Works
The Price Match Guarantee is applicable for mold remediation only. It does not apply to Mold Busters inspection, testing or other abatement services.
To start, simply send us the estimate(s) and report(s) you have already received in PDF format ONLY. Afterwards, our trained remediation team will review the documents to ensure the proper protocols are being followed. Then, we will schedule one of our technicians to visit the property and confirm all of the details—free of charge.
To best serve you and ensure you qualify for our Price Match Guarantee, we will need to receive and review all written quotes or reports pertaining to your mold problem.
To get started, please fill out the submission form below.
---
Other Reasons to Choose Mold Busters
15+ years of professional experience in the remediation industry
Fully trained, certified and insured
Authors of the Residential Mold Removal Guidelines
Eco-friendly products and proven abatement methods
Fast booking for projects
Full-time Customer Solutions Centre available to answer your questions
Trusted by government, commercial and residential clients like the Government of Canada, City of Ottawa, RBC, Aldo, and Costco.
1-, 3- and 5-year conditional and transferrable work warranties are available!
Full confidentiality and discretion—always
We are so confident in the fairness and quality of our services that we are ready to match or beat any remediation quote. And with our wide variety of booking and payment options, it's no wonder we're Eastern Ontario and Western Quebec's preferred mold remediation company.