Mold Removal in Pierrefonds
Local Testing and Remediation Services in Pierrefonds, West Island Montreal
Don't let mold ruin your home: get a mold removal service in Pierrefonds
Mold may seem like a common, everyday occurrence, but it can be harmful if it is ingested, inhaled or touched.
No matter if you are exposed to mold for a short period of time or every day, you can experience a number of different reactions.
Your symptoms can vary depending on how long you have been exposed, the species of mold you have been exposed to and how vulnerable you are to mold-related illness. Infants, children, the elderly and people with asthma or weakened immune systems will suffer more from mold exposure than healthy adults.
10% OFF
Schedule services online and save!
Available for home owners, landlords, businesses & property managers. If you are a tenant, please call to schedule your appointment.
YOUR PROMO CODE
MARCH10
Valid until March 31st, 2023
Mold Inspection and Testing in Pierrefonds – West Island
You should bear in mind that all houses and buildings are susceptible to mold, especially if they provide organic material, moisture and a warmth.
You can recognize mold by the following signs:
Discoloration of walls and other surfaces
Bubbling wallpaper
Earthy and musty odour
Wall condensation
Health symptoms (difficulties breathing and swallowing, mental confusion, rashes, congestion, itchy eyes, and so on)
If you notice any of these, you should arrange a mold inspection immediately. And even if none of these warning signs are present, it's still a good idea to conduct a mold inspection because household mold is often hidden. In order to keep yourself and your family healthy, mold inspection should be a routine part of property maintenance.
We at Mold Busters conduct detailed, conclusive, clean and safe inspections. A trained and certified mold inspector comes to your home and checks it for signs of mold and moisture intrusion. They measure moisture levels, temperature, relative humidity and airborne particles. In addition, they use an infrared camera to identify possible temperature irregularities.
They can also conduct a mold or air quality test to get further information about the mold you face. Then, using all of testing results, they will put together a report and let you know about a scope of work and quote for mold removal services.
If you want an expert to conduct a mold inspection in your home, call Mold Busters.
Our Services
Our most popular services include:
FAQ
The short answer is, it depends. The long answer is that our technicians first need to thoroughly inspect the property and consider a variety of factors (including the size and extent of the contamination, the location of the mold problem, etc.) in order to give you an accurate price for mold removal.
But in no way should this discourage you from asking for professional help. In fact, it is much more cost-effective to have a professional remove the mold than suffer the consequences of doing it on your own. You risk exposing yourself to a toxic substance, as well as having the mold contaminate other areas of your home or even grow back due to improper remediation.
In addition to locating the source of the mold problem and cleaning the entire mold-contaminated area following all remediation guidelines and protocols, Mold Busters will conduct a free post-remediation air quality test. This way, you know that your indoor air is completely free of mold. If you need the best mold removal service in the country, contact us for a quote today.
Mold Busters Pierrefonds Celebrates 15+ Years in Business
Service Areas Across Pierrefonds, West Island
West Island is the unofficial name given to the handful of cities and towns situated on the western portion of the Island of Montreal. In 2011, it was home to around 235,740 people, a population comprised mostly of anglophones.
West Island has beautiful architecture and a rich history, with urban development dating back to European settlements in the 17th century. However, the drawback of this long history is that many of the houses and buildings in the West Island are very, very old. With this age comes cracked foundations, shifting walls and many other flaws that allow moisture to intrude and mold to multiply.
Unfortunately, there are also plenty of external sources of moisture within West Island, which sits at the confluence of the Ottawa and Saint Lawrence rivers. These geographical and architectural factors make West Island a hotbed for mold development.
We service residential, commercial, goverment properties and cover these areas across West Island:
Dollard-Des Ormeaux
Baie-D'Urfe
Pointe-Claire
Sainte-Anne-de-Bellevue
Pierrefonds-Roxboro
Senneville
L'Île-Bizard
Sainte-Geneviève
Pierrefonds
Kirkland
Beaconsfield
Saint-Laurent
Saint-Lazare
Hudson
Rigaud
Vaudreuil-Dorion
West Park
Sunnybrooke
Westwood
Greendale
We service rural areas!
Mold Remediation Showcase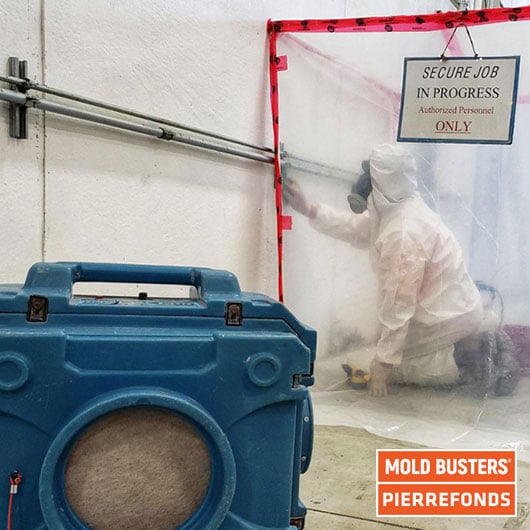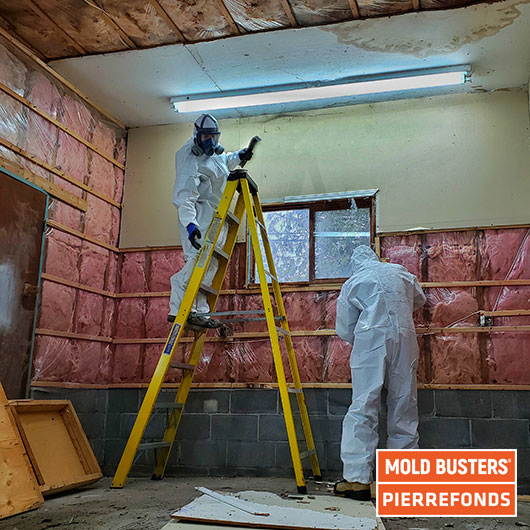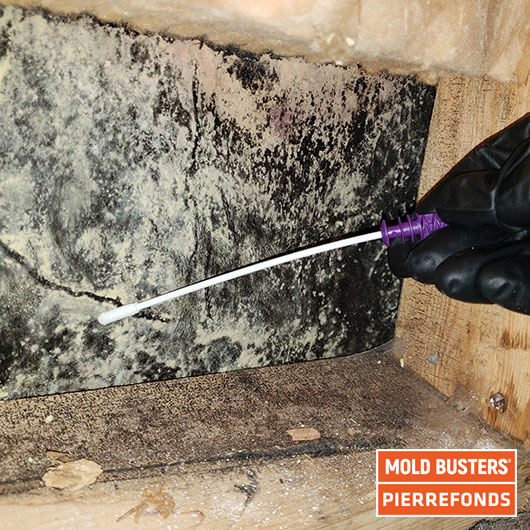 Contact Us
Worried about mold, odour or other air quality issue? Contact us:
Info
Mold Busters Pierrefonds – West Island Montreal. Quebec, Canada
Customer Service: 24/7
Inspection & Remediation: 8AM- 5PM
Reviews from our customers in Pierrefonds, West Island
Call Now Button
Skip to content