Mold Busters' Certifications
Over the years, there has been a lot of certification in various industries. The purpose of a certification is to ascertain that a company is qualified to carry out its mandate. Two of the most important certificates that a home improvement company can obtain are the BBB and IICRC certifications.
In order for any company to be certified by the above-named bodies, they must pass stringent procedures. We are proud to say that Mold Busters, as an industry leader, has passed these certifications. Bellow we will try to highlight the importance of BBB and IICRC certification and why you should work only with certified companies like Mold Busters.
BBB Accredited – What does BBB stand for?

BBB stands for Better Business Bureau. The organization is a nonprofit which was founded in 1912 and incorporates businesses in the U.S and Canada.
What Does BBB Do?
The organization has a rating system whereby each company which is certified is rated using a number of parameters. Mainly, the organization gathers information on how a particular company interacts with its customers in terms of customer relationships. BBB obtains this information from public domains and also from the companies themselves.
BBB Ratings
The highest rating that a company can have is (A+) while the lowest rating is F. Additionally, there is an NR ('No Rating') indicator which means that a certain company has not been rated. The reasons for a company not being rated include: insufficient information or the company is under review.
Mold Busters BBB Ratings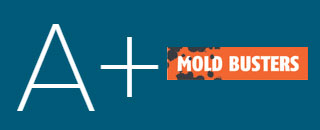 Mold Busters have an A+ BBB rating. You can check the rating here. The reason behind this rating is because Mold Busters have experts who will ensure that there is no mold in your home. Our company also guarantees that your home has fresh air so that your health is not jeopardized.
IICRC Certification – What does IICRC stand for?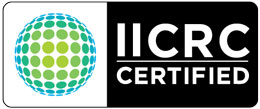 IICRC is also a nonprofit organization that is present in more than 25 countries including Canada, Australia, the U.S, and Japan. IICRC stands for Institute of Inspection, Cleaning and Restoration Certification.
How IICRC operates?
The organization serves to ensure that there are some universally accepted standards in as far as home cleaning, restorations and procedures are concerned. These standards are universally accepted and they are of the highest integrity. The organization is accredited by the American National Standard Institute (ANSI) to develop standards across the home improvement industry. ANSI is considered as an authority in contamination control the world over. Therefore, any company that is IICRC endorsed means that it has followed all the restoration and cleaning procedures required to be carried out by a company.
IICRC Standards?
The organization has many standards including the S100, S210, S220, S300, S400, S500 and nine more. Each "S" represents a certain certification. For example, the S 100 represents "Textile floor cleaning" while S 300 represents "professional upholstery cleaning".
Mold Busters and IICRC Certification
Mold Busters has an active status with the IICRC certification body. Our company is also a certified as "Water damage restoration technician" with IICRC which means that we are the best in restoring homes that have been damaged by water and mold.
Conclusion
If you want the best home improvement service, then it is better to use the best in the industry. As seen, certification gives a lot of credibility to any organization. Mold Busters have two of the highest certificates as far as home restoration and mold control is involved. Therefore if you have a mold problem, be assured that you are in safe hands with Mold Busters.