Get a FREE Infrared Scan with your visual inspection! Thermal imaging is a fast, non-intrusive way to detect hidden leaks, water damage and mold!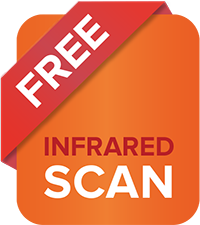 Book now at 613-262-3242
Our unbeatable record for customer satisfaction means that you will get fast,
effective and affordable answers to your questions.
Mold Busters strives to deliver comprehensive mold inspection, mold testing and mold removal services in Ottawa for both residential and commercial properties. Fast, reliable and affordable—always.
Our inspectors and technicians are fully certified with the National Association of Mold Professionals (NAMP)and strictly follow IICRC guidelines for safe and effective remediation and water restoration. We also have certified thermographers on our team to help you identify hidden problems like moisture intrusion, air leakage, mold growth and electrical overheating.
So, whether you're dealing with toxic black mold, asbestos, VOCs or even a mouse problem, we can help restore the health and safety of your indoor space. Call now to speak to a certified technician.
What Our Customers Have to Say
The service that I got from Charles was professional and friendly right from the first encounter on the phone. This service carried over into the home visit where he conducted his testing. Knowing that I was very concerned with a potential issue we may have had at hand, he in no way took advantage of that where he could have provided a false positive in order to further profit for the company.

He was honest, took his time to explain what I was truly dealing with and provided a realistic solution He put my mind at ease and made me feel confident that Bust Mold Inc. is a trustworthy company with a superior form of customer service.

With that being said, I would recommend with full confidence Bust Mold Inc. to anyone that I feel would benefit from this service. Thank you.
Patricia K. (Ottawa, Ontario)