Get a FREE Infrared Scan with your visual inspection! Thermal imaging is a fast, non-intrusive way to detect hidden leaks, water damage and mold!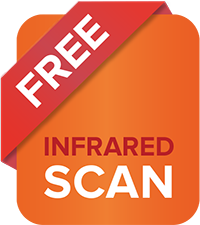 Book now at 819-303-0250
Our unbeatable record for customer satisfaction means that you will get fast,
effective and affordable answers to your questions.
Worried about mold, asbestos, water intrusion, heat loss, VOCs or any other air quality problem? We've got you covered.
Mold Busters has been providing fast and professional mold inspections and mold removal in Gatineau for nearly 10 years. We have seen every kind of mold problem and have the equipment to clean it up safely and effectively while giving you long-lasting protection against future contamination.
Mold Busters technicians are fully certified with NAMP (National Association of Mold Professionals) and always follow ANSI/IICRC guidelines for safe mold remediation and water damage restoration.
If you want a permanent solution to your mold problem, call your local experts.
What Our Customers Have to Say
10/10 - We are in the construction business and when we have good services, we like to refer teammates and other contractors to those good service providers.
ED Brunet and Associates Canada Inc. (Gatineau, Quebec)