Mold Removal in Gatineau
Local Inspection, Testing and Remediation Services
Remove the mold before it takes over your home in Gatineau
Worried about mold, water intrusion, heat loss or any other air quality problem? We've got you covered.
Mold Busters has been providing fast and professional mold inspections and mold removal in Gatineau for nearly 15 years. We have seen every kind of mold problem and have the equipment to clean it up safely and effectively while giving you long-lasting protection against future contamination.
Mold Busters technicians are fully certified with NAMP (National Association of Mold Professionals) and always follow the guidelines for safe mold remediation and water damage restoration.
If you want a permanent solution to your mold problem, call your local experts.
10% OFF
Schedule services online and save!
Available for home owners, landlords, businesses & property managers. If you are a tenant, please call to schedule your appointment.
YOUR PROMO CODE
MARCH10
Valid until March 31st, 2023
How to Improve Your Indoor Air Quality in Gatineau?
Mold is one of our primary concerns at Mold Busters, but it is just one factor in the overall indoor air quality of a building. In addition to black mold, other pollutants like asbestos, VOCs and radon also pose a huge risk to your health and well-being.
Unfortunately, in most cases, we don't even realize we're exposed. This is because most indoor pollutants like asbestos, radon and VOCs are hard to detect – we cannot see or smell them. Until now.
Mold Busters offers air quality testing for mold and asbestos.
Our Services
Our most popular services include:
10+ Reasons Gatineau Chooses Mold Busters
15 years professional experience removing mold

Same-day appointments in Gatineau

Third-party mold and air quality testing

Dedicated Customer Solutions Providers working for you

Reports

delivered in as little as 48 hours

Transferrable work warranties

Full discretion & confidentiality (no marked vehicles or branded technicians).
FAQ
Certainly. Mold tests reassure buyers that they're making a sound investment. Often, mold problems that were not noticed at the time of purchase lead to extensive structural damage and costly repairs later on.
A mold inspection also often uncovers other hidden problems like moisture intrusion and poor insulation.
By finding out about any mold problems before signing an offer to purchase, you have more leverage to negotiate a lower price, to set conditions that benefit you, and to opt out of the deal if you choose to do so.
Mold Busters Gatineau Celebrates 15+ Years in Business
Mold Busters Gatineau Perks
Service areas across Gatineau
Looking for mold removal services in and around Gatineau? Whether you have a small patch of surface mold or an extreme black mold contamination, call Mold Busters for professional and reliable help. Our services cover all aspects of mold–from mold testing and inspections to complete mold remediation and decontamination:
Aylmer
Cantley
Chelsea
Gatineau
Grenville-sur-la-Rouge
Hull
Low
Luskville
Maniwaki
Montebello
Papineauville
Pontiac
Quyon
Shawville
Val-des-Monts
Wakefield
We service rural areas!
Mold Remediation Showcase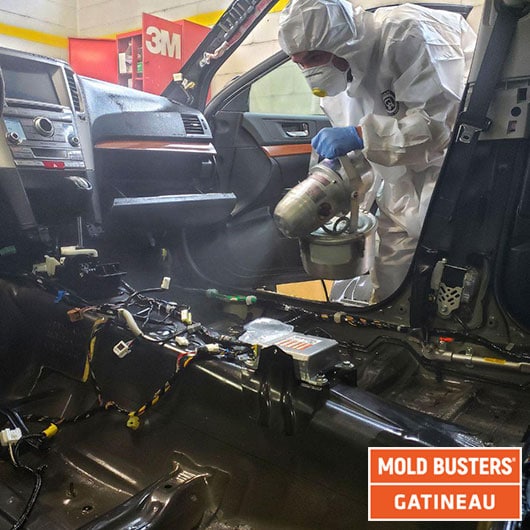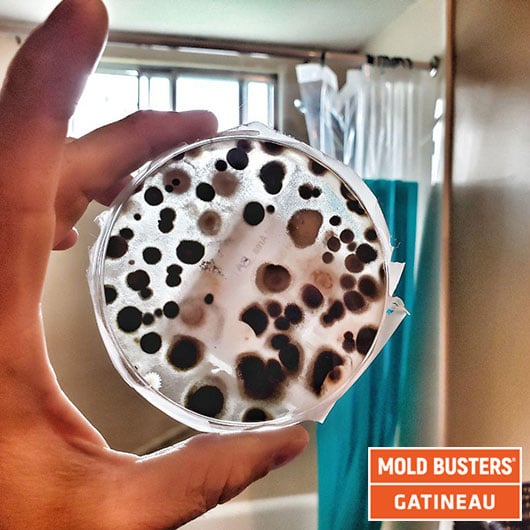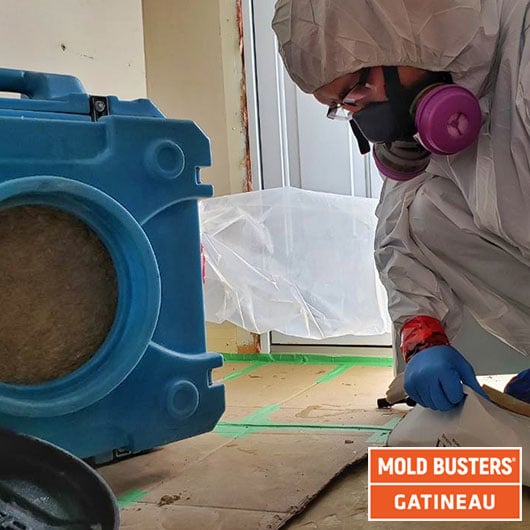 Contact Us
Worried about mold, odour or other air quality issue? Contact us:
Info
Mold Busters Gatineau. Quebec, Canada
Customer Service: 24/7
Inspection & Remediation: 8AM- 5PM
RBQ# 5726-4947-01
Reviews from our customers in Gatineau
Call Now Button
Skip to content