Odour Inspection Services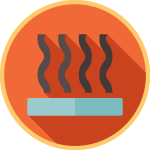 Besides being unpleasant, odours can cause health effects such as headaches, coughing, sneezing, mild to severe allergies and difficulty breathing. As such, moldy smells in houses should not be ignored.
Hiring a professional company like Mold Busters to examine your property in Ottawa and Montreal can help you locate the cause of the odour–whether it's coming from a smelly basement or a damp smell throughout the entire home. Once you have this information, you can then get rid of the mold odour in your house and improve your indoor air quality for good.