Mold Removal in Brockville
Testing, Inspection and Remediation Services
It's our mission at Mold Busters to educate and protect Brockville residents from the adverse effects of poor indoor air quality (IAQ), caused by some of today's most common household pollutants including mold and asbestos.
We are fully trained and certified to handle all of your mold and air quality concerns with equipment you can trust and at a rate you can afford.
ONLINE BOOKING
Schedule services online and save!
Get 10% OFF when you
book online using this code:
SPRING-SAVINGSOffer ends May 31st, 2022
Online booking is available for home owners, landlords, businesses & property managers only. If you are a tenant, please call to schedule your appointment.

Mold Busters Brockville Celebrates 15+ Years in Business
Services We Provide in Brockville
Mold Inspection Brockville
You might think that mold is a harmless nuisance but several strains of this fungus are extremely toxic. It can cause a wide spectrum of health problems—respiratory issues, suppressed immune system, neurological disorders and, in extreme cases, death—if you fail to recognize its presence in your home on time.
You may have noticed black spots on your walls or discoloration on the ceiling. If so, you should act urgently. Basement, kitchen, bathroom or attic ‒ we are here conduct a mold inspection in all parts of your home. When you call us for an inspection, we will identify any issues that could contribute to mold growth by conducting a thorough and technologically advanced examination of your home. We will investigate the history and structure of your home by contacting the builders and examining blueprints. We can measure the level of humidity and identify any areas of moisture buildup. We can perform a particle scan to identify microscopic mold spores suspended in the air and measure the precise concentration. We can scan walls with infrared cameras to identify sources of mold that are hidden to the naked eye.
When we have completed this, we will provide you with a comprehensive inspection report and plan the best strategy for remediation, as well as inform you about the quote and scope of work. Our experts are certified by numerous institutions, and all of them have completed rigorous training and courses. They follow all industry-standard guidelines and regulations. If you need mold inspection in Brockville, contact Mold Busters!
Mold Testing Brockville
Mold presents in a number of ways: Earthy and musty smell, wall discoloration, bubbling paint or wallpaper. However, these signs are usually just the tip of the iceberg and tend to only be visible once mold has been growing for a long time. We don't recommend waiting for these signs before inspecting your home as they represent an advanced stage of mold growth.
The only way to be sure that your home is mold-free is to get an inspection from a professional mold testing service. Our team of experts uses a surface sample, a non-viable air test or any number of other testing protocol to identify the potential issues in your home or building. They will also determine the type of issue, how serious it is and the best solution. Call us to arrange mold testing in Brockville.
Mold Removal Brockville
If you have noticed signs of mold or if mold has been uncovered in an inspection, you should immediately begin remediation. You may be confident in cleaning up mold on your own but mold has a high rate of recurrence when it is tackled by non-professionals. This is because most non-professionals attack the symptoms of the problem (e.g., visible mold spores on a wall) without addressing the cause (e.g., moisture buildup due to poor ventilation). It is extremely important to identify the exact cause of the problem and treat it directly. And that is exactly what we do. Our experts carefully inspect your entire house, from the roof to the foundation to find all sources of moisture.
Mold Busters is a certified Canadian mold removal and remediation company. We have conducted home remediation services all around the country. Our experts are able to remove all kinds of mold. Moreover, they can remove it from all parts of your home. To schedule mold removal and remediation in Brockville, contact us today.
Air Quality Testing Brockville
All of us spend a lot of time indoors, whether it's in our homes or our workplaces, so indoor air quality impacts our health more than outdoor air quality. Unfortunately, air quality in many homes and buildings is poor. Most homes contain some level of asbestos, mold and volatile organic compounds (VOCs). These contaminants are responsible for many health problems including headaches, respiratory problems, dizziness, chronic fatigue and many others. These symptoms are easy to misdiagnose because so many other conditions cause them, so people often aren't aware of their root cause.
You won't know that the air in your home or workplace is truly safe until you have it tested by qualified professionals. The Mold Busters team will undertake rigorous and technologically advanced inspections to uncover any contaminants in your air. For air quality testing in Brockville, contact Mold Busters now.
Asbestos Testing Brockville
When people inhale asbestos particles on a regular basis, their health can deteriorate considerably. They can develop conditions like mesothelioma or even cancer. Health Canada advises that asbestos is safe so long it is not disturbed, but even the most basic home maintenance will do this. Drilling into drywall, removing tiles, replacing insulation—all of these activities and others can release asbestos into the air.
Asbestos is much more prevalent than you might think. You can find asbestos in many parts of your house or apartment, such as exterior siding and paints. You can even find it in everyday products like ironing boards and hair dryers. To find out if your home contains dangerous levels of asbestos, you should hire professionals to conduct detailed indoor air testing. For asbestos testing in Brockville, contact us today.
Our Services
Our most popular services include:
Mold Statistics in Brockville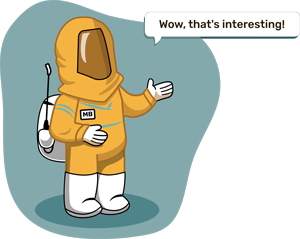 Did you know?
Penicillium/Aspergillus group is the most common toxic mold found in Ontario homes?! Find out more mold stats and facts inside our mold statistics page.
Service Areas Across Brockville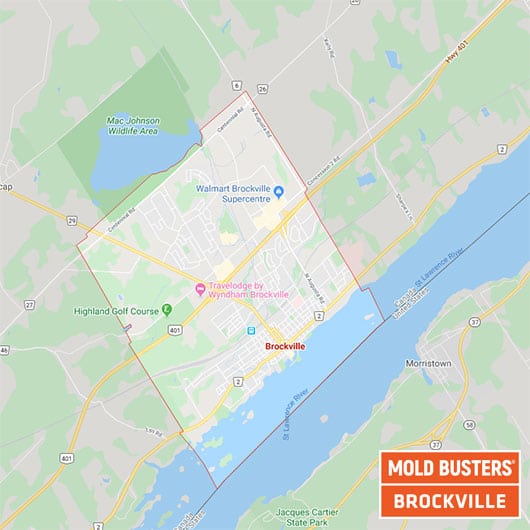 Located in the Thousand Islands region of Eastern Ontario, Brockville is situated on the north shore of the Saint Lawrence River, 71 miles south of Ottawa. Brockville is one of the oldest English-Canadian settlements in Canada. English settlers began developing the area in 1784. Brockville has since preserved much of its historic architecture, especially in the downtown core, with many homes and buildings in the area boasting more than 100 years of history. Unfortunately, the beautiful historic architecture has the downside of being vulnerable to mold. Older homes and buildings inevitably suffer from cracks in foundations and walls over time and no amount of restoration can keep up with all the damage of time. These homes and buildings are very vulnerable to moisture intrusion, which is an especially serious problem given that Brockville has such a humid climate. This combination of high humidity and aging architecture makes Brockville an ideal environment for mold growth.
We service residential, commercial, goverment properties across Brockville and rural areas.
FAQ
Since moving into my new Brockville home, I've developed a rash and irritation in my throat. Could these symptoms be linked to mold?
Rashes and throat irritation are common symptoms of mold exposure. Other symptoms include wheezing, coughing, and difficulty breathing. The symptoms you experience will vary depending on your personal sensitivity to mold and the degree of exposure. If you have any doubts, consult with your doctor.
However, the only way to know for sure whether mold is to blame for your health troubles is to test your indoor air. Mold Busters offers Brockville residents fast, affordable and reliable air quality testing. We also offer same-day service for emergency calls.
Contact Us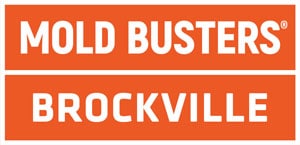 ---
Worried about mold, asbestos or another air quality issue? Contact us:
Reviews from our customers in Brockville