Resources
The key to keeping mold from growing in residential and commercial buildings is awareness. The more you know about mold, the better you'll be able to prevent it from becoming a costly problem—not just financially, but also health-wise.
People tend to take mold seriously only when it's past the point of prevention—when they begin experiencing symptoms of mold exposure or when the growth has already spread to their walls and structural components.
Luckily, mold awareness is increasing as more and more homeowners, tenants and business owners in Ottawa and Montreal are realizing that mold is a serious problem that warrants immediate attention and remediation.
If you require more information about mold or your indoor air quality and wish to speak to an expert directly, give Mold Busters a call today.
Improve your indoor air quality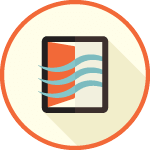 Air pollution is not a good thing. Many people are well aware of this, but they often worry about the effects of outdoor air pollution and give little thought to poor indoor air quality. This is problematic given that Canadians spend 90% of their time indoors.
At Mold Busters, we share valuable information on how to maintain and improve the air quality inside your home. Not all of it has to do with mold, either. In fact, there are several indoor air quality pollutants besides mold, including radon, asbestos and VOCs.
Learn how mold affects IAQ
Start learning about mold and IAQ by first becoming familiar with the terminology. Dive into our comprehensive mold library, where you'll learn names of the various mold types and what their characteristics are.
Professional air quality testing is the only sure-fire way to tell the current state of your indoor air. Still, there are ways you can work toward improving or maintaining your IAQ.
By enrolling in our How to Improve Your Indoor Air Quality web course, you'll have the information you need to keep a healthy home, free of asbestos, radon, mold spores and other indoor air pollutants.
If you don't find the information you're looking for on any of our online resources, please reach out to our mold removal experts in Ottawa and Montreal. We will respond to all of your inquiries or concerns promptly.