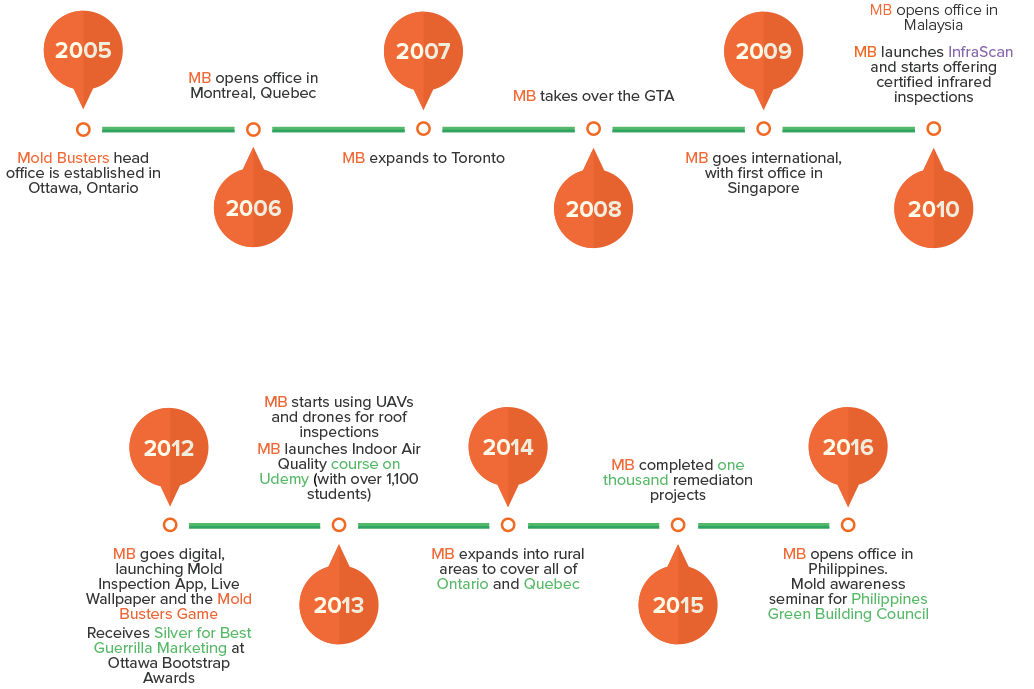 Mold and indoor air quality (IAQ) awareness is at an all-time high. Across Ottawa, Montreal and other larger cities, people are realizing that exposure to poor IAQ may be triggering recurring physical symptoms, such as sneezing, coughing, skin irritation and other allergies.
It's time to take action against indoor air pollutants like mold, asbestos and VOCs.
We are Mold Busters, a reputable mold inspection and mold remediation company that offers comprehensive testing and removal services in cities all over Ontario and Quebec.
Since 2005, our team has been testing for and removing mold and other air pollutants from your indoor living environment, ensuring you have a healthy and safe place to spend time in.
We are certified by the National Association of Mold Professionals (NAMP) and strictly adhere to IICRC remediation guidelines. To learn more about us and our environmental services, consult with one of our mold experts today.
Our mission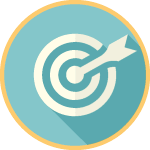 When black mold grows in your home, it threatens your health as well as your home's structural integrity. Mold Busters is committed to providing Ontario and Quebec residents and business owners with top-of-the-line mold inspection and removal services, which will ensure their properties are free of mold and other indoor air pollutants.
Our team is fully qualified to carry out a wide range of environmental inspection and removal services. We understand and respect your need for quality service, safety and affordability. Therefore, we use the latest technology and tools, while continuing to expand our credentials and list of services.
Discover what customers say about our work ethic and service quality by checking out our client testimonials.
Specialized mold removal tools
Our technicians use the latest technology and most advanced equipment when inspecting, testing, and removing mold from your home. This way, you can rest easy knowing we're getting the job done—and done properly.
Infrared cameras, UAV drones, and the EZ Breathe ventilation system are just a few pieces of equipment that help us do our job safely and efficiently.
What's more, we have access to the most reliable testing laboratories. We make sure any air quality or surface samples we take are thoroughly analyzed. This way, results are accurate and easy for you, the customer, to understand.
What you'll learn from Mold Busters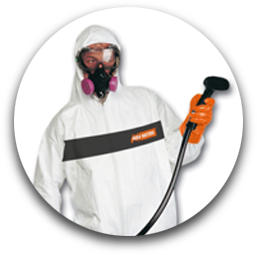 Our goal is to bulk up your bank of mold and IAQ-related knowledge and teach you all about mold so that you can better protect yourself and your home. We want to teach you about:
What causes mold growth
Where to look for mold
Common signs of mold growth
What to do (and what not to do) after finding mold in your home
Symptoms of mold exposure
How mold can damage your property
How to prevent mold
Raising mold awareness
We value ongoing education, and we stay updated in today's ever-changing industry. As a result, we're able to offer our clients both optimal service and industry insight.
Mold awareness is crucial; we share what we know about mold and air quality with our customers and the general public. Attending one of our mold awareness seminars, enrolling in our air quality web course, and using our free mold inspection app are among the many ways you can access this information.
We also encourage individual contractors to get involved in our fight against mold by offering a fantastic franchise opportunity.
If you have a particular question, please take a look at our FAQs page. To learn more about our mold removal and air quality services, including mold testing, asbestos testing and removal, infrared inspections, air quality testing, and mold remediation, contact Mold Busters.