Insulation Inspection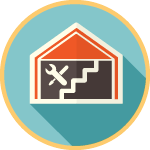 The absence of insulation not only results in uncomfortable temperatures, but it could also be responsible for your high utility bills as well as moisture problems like condensation and mold.
At Mold Busters, our infrared inspections allow us to identify spots in your home where insulation might be missing, damaged or not installed properly.
These inspections are non-contact and non-destructive, which means we don't have to cut any holes in your walls in order to inspect the insulation. That makes them faster and cheaper than traditional inspections.
Contact us now and ask about our insulation inspections.