Air quality testing (also known as air sampling) checks for high levels of pollutants in an indoor environment. Common indoor pollutants found in Ottawa and Montreal homes include mold, asbestos, VOCs and radon.
The results of an indoor air test give you important information about the health of your home. From there, you can decide what kind of remedial action to take.
Mold Busters Works Only with Accredited Third-Party Testing Laboratories
We are proud to work closely with Canada's top microbiological laboratories to provide the most accurate and timely results to our clients. Our third-party labs are:
PALA-certified for Air Microbiology Laboratory Testing: fungal air, fungal bulk and Legionella analysis
CALA-accredited for Analysis of Bacteria, Mold, Asbestos, Organics, Metal and Conventionals
NVLAP-certified for Air and Bulk Asbestos Testing
IRSST-certified for Asbestos Analysis Certification: Polarized Light Microscopy (PLM); Transmission Electron Microscopy (TEM)
ELAP-certified for Asbestos in Solid and Hazardous Waste Materials
Based on the results of your air quality tests, you may need to hire a professional for mold removal or asbestos abatement.
Mold Busters is here for you every step of the way and in most regions of Ontario and Quebec. Get help with all of your indoor air quality needs in Ottawa, Gatineau and Montreal. We do same-day appointments with full test results delivered within 24 hours!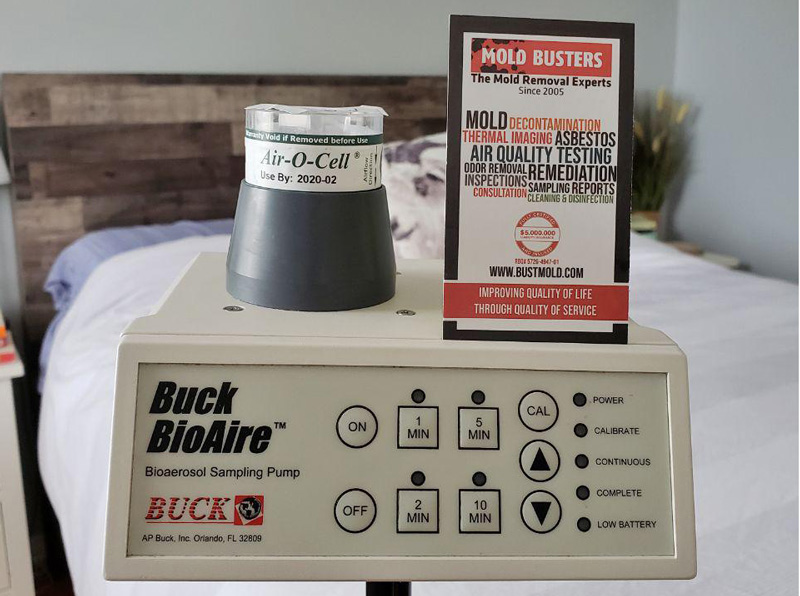 Ontario Air Quality Testing Service Areas
Quebec Air Quality Testing Service Areas
Mold Busters Celebrates 15+ Years in Air Quality Testing Business
Why test your home air quality?
Most Canadians spend about 90% of their time indoors! Finding air quality problems early on plays a crucial role in maintaining good health and quality of life.
Other IAQ testing benefits:
Helps mold inspectors develop a proper scope of work and remediation strategy.
Identifies the type and concentration of mold spores in a room.
Can be used in legal matters as official proof of a mold problem.
Can be used in real estate transactions or as part of a complete home inspection.
Call Mold Busters today for fast and professional IAQ testing services, or learn about our virtual inspection options.
Symptoms of poor home air quality
But how do you know if you need to get your indoor air tested?
If you are experiencing unexplained symptoms and allergies, or are noticing unusual odours inside your home, it's a good idea to conduct indoor air quality testing in yor home. Here are some more of the most common health symptoms associated with poor indoor air quality:
Respiratory conditions
Asthma
Coughing, sneezing, wheezing
Shortness of breath
Frequent headaches
Eye, throat or skin irritation
Dizziness, disorientation or mental confusion
Chronic fatigue
Nausea or vomiting
Worsening of allergies
Anxiety
All of these symptoms are also associated with long-term exposure to toxic mold. Molds like Stachybotrys chartarum (black mold) can cause debilitating health effects that can prevent people from performing everyday tasks and enjoying life.
How does air quality testing work?
A Mold Busters technician will collect a sample of air from the area(s) you are concerned about. To do this, a specialized bioaerosol sampling pump is used (pictured above). The technicia will then send your air sample(s) to an accredited microbiological lab for detailed analysis. The results reveal the exact types of mold spores present and their concentrations.
You will receive a report explaining the results along with our professional recommendation for remediation if mold or other air pollutants have been identified.
Mold Busters' air quality testing services in Ottawa, Gatineau and Montreal are the fastest and most accurate way of finding out if the air you're breathing in is clean and safe.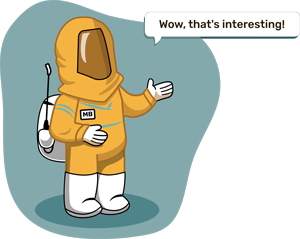 Did you know?
Only 6% of tested outdoor air samples we performed didn't have any presence of mold?! Find out more exciting mold stats and facts inside our mold statistics page.
How much does air quality testing cost?
The cost of an air quality test largely depends on the type of test you are getting (viable or non-viable). Viable testing is substantially more expensive than non-viable testing–almost double the cost.
Another factor that influences the price of an air test is how fast you want your results. Typically a turnaround of 24-48 hours will cost more than the regular service.
Finally, each indoor environmental professional has their own pricing system and some variance in costs can be expected. Contact Mold Busters today to get a quote.
How to improve indoor air quality
Here are a few possible solutions for improving IAQ in your home:
Adding extra air filters or air purifiers
Investing in better ventilation
Cleaning your air conditioner
Getting your air ducts cleaned