Air Quality Testing in Ottawa and Montreal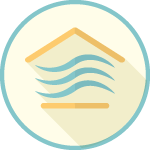 Do you experience allergies year-round? Do you find yourself constantly coughing and sneezing but don't know why? If so, you could have an air quality problem on your hands.
Air quality testing (also known as air sampling or air monitoring) identifies the presence of pollutants like mold, asbestos and VOCs in indoor air.
Similar to the air quality index (AQI), which tells you how polluted outdoor air is, the results of an air quality test give you important information about the health of your indoor air.
Given that the majority of people spend about 90% of their time indoors, air quality assessment plays a crucial role in discovering IAQ problems, properly addressing them and improving in your quality of life.
Property owners in Ottawa should get indoor air quality assessment if they want to ensure a healthy living environment. Air quality testing in Montreal homes, schools and businesses is just as crucial.
Call Mold Busters today for IAQ Testing service in either the Ottawa or Montreal area. While some companies take up to a week to deliver results, we can deliver a full report within 24 hours.