Water Damage Inspection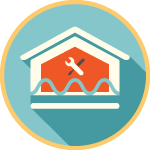 Floods, leaks, condensation, humidity—these are all types of moisture problems that can cause costly damage to your property and compromise the structural soundness of your home.
However, if not addressed promptly, water damage can quickly become a very real health threat, fuelling the growth and proliferation of toxic black mold.
A water damage inspection is therefore critical for finding the source of the moisture, assessing the damage done and preventing future problems like mold growth.
Mold Busters is a local thermal imaging company that offers comprehensive infrared inspections of water-damaged homes and buildings in region of Ottawa and Montreal. We'll help you detect moisture and assess water damage without doing any additional damage to your home such as cutting holes in your walls or removing carpet.
We're fully certified and insured, so contact us today and book your infrared assessment!