Mold Testing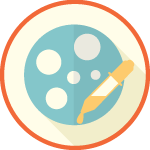 Mold awareness among the general public is growing and the demand for mold testing services is on the rise as people are beginning to realize just how big of an impact exposure to mold can have on their health.
Our motto is, it's not mold until it's tested. This is because not all black spots are mold. In fact, black spots on surfaces can be caused by a number of things including dirt, soil, paint and insect fecal matter.
The best way to find out is to get a professional mold test, which will answer three important questions:
Do you have a mold problem?
What species of mold is present?
What's the level of contamination?
Call Mold Busters now to book your mold test!
It's Not Mold Until It's Tested
What causes mold?
Should the results of the mold testing reveal a mold problem, our experts will determine the exact cause or source of the mold growth. This is most often associated with a moisture problem such as
Cracked roof or foundation
Burst pipes
Leaky taps, faucets and toilets
Old windows and doors
High humidity
Leaky appliances
Flooding
It will then be up to the inspector to develop an effective mold remediation strategy for your particular problem based on his observations and the test results.
Remember, getting the issue fixed promptly is crucial in containing the contamination and preventing mold spores from spreading to other areas of your property.
Why choose Mold Busters
Mold testing provides fast and accurate answers to all of your air quality and mold-related worries. Our comprehensive mold testing services along with our reputation for excellence and customer satisfaction have made us one of Canada's leading mold testing, inspection and remediation companies.
On top of that, we are always innovating and looking for ways to make our mold testing and removal services more accessible to you. In fact, we have just launched our free mold inspection app that's available for Android, Apple and BlackBerry devices.
For more information about any Mold Busters products, apps or services, give us a call today!