Mold Testing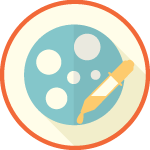 Mold testing is about making sure your spaces are healthy, and that you don't have uncontrolled mold growth on your property.
Mold awareness among the general public is growing and the demand for mold testing services is on the rise as people are beginning to realize just how big of an impact exposure to mold can have on their health.
Black mold in particular is a health concern which needs to be addressed quickly, before it can spread throughout your house or office.
The first step to controlling any kind of mold is testing. Our motto is, it's not mold until it's tested. This is because not all black spots are mold. In fact, black spots on surfaces can be caused by a number of things including dirt, soil, paint and insect fecal matter.
The best way to find out is through professional mold testing in Ottawa or, if you reside in Montreal, professional mold testing in Montreal.
The Mold Busters system is perfect for getting you fast results so you know exactly what you're up against.
Either a surface sample for mold or a non-viable air test for mold will answer four important questions:
Do you have a mold problem?
What species of mold is present?
How bad is the contamination?
What is the best way to proceed with remediation?
Our reliable services are available in Ottawa and Montreal, and all our testing is done by certified labs. We even offer rushed testing if you want to speed up your mold removal.
Unsightly black spots in your kitchen, bathroom, or basement can be a real nuisance to the atmosphere of your home, and your health as well. Understanding what you're up against is the first step in cleaning your home of this dangerous intruder.
Call Mold Busters now to book professional mold testing.
It's Not Mold Until It's Tested
What causes mold?
Should the results of the mold testing reveal a mold problem, our experts will determine the exact cause or source of the mold growth. This is most often associated with a moisture problem such as
Cracked roof or foundation
Burst pipes
Leaky taps, faucets and toilets
Old windows and doors
High humidity
Leaky appliances
Flooding
It will then be up to the inspector to develop an effective mold remediation strategy for your particular problem based on his observations and the test results.
Remember, getting the issue fixed promptly is crucial in containing the contamination and preventing mold spores from spreading to other areas of your property.
Benefits of mold testing
A mold test, be it a surface sample or an air quality test, has several purposes:
Assessing fungal ecology
Confirming the presence of mold
Locating source(s) of moisture
Assessing potential health risks
Eliminating potential health risks
Planning a mold remediation
Providing evidence for insurance claims/litigation
Verifying job completion
How to tell if you need a mold test?
One common reason people decide to get professional mold testing is that they notice persistent smells or recurring symptoms such as coughing, sneezing, skin or eye irritation and headaches.
Although many of these symptoms are associated with and point to seasonal allergies, it's possible you're actually experiencing an allergic reaction to mold.
It's also a good idea to get a mold test if you're thinking about buying a home. Know that the home you're investing in is free of harmful air pollutants that will cost you down the road.
Finally, if you've never had your home tested for mold, there's no better time to start than today.
Book now with Mold Busters! Our mold testing package includes a full report specifying the exact species of mold found and their concentrations. Also included is a professional recommendation for how to proceed with remediation, if necessary.
Why you should test for mold in your apartment or house?
We all look forward to moving into a new home. It's an exciting time, when everything looks clean and tidy, you set your furniture out, hang your clothes in the closet, and put your feet under the table. Imagine though how you would you feel if a few months later, you notice that you're becoming short of breath, your family has been sneezing a lot recently or a member's asthma is worsening. Unfortunately, these are signs there could be a mold problem in the apartment or house.
Not all mold can be seen by the human eye, and so it often remains untreated. Mold spores then continue to make their way through the air and cause respiratory harm. The experts at Mold Busters highly recommend that you have a mold inspection prior to moving in. When you walk around your new property, you probably won't notice damp areas behind walls or under floorboards – the areas where mold could be growing.
Our highly-trained inspectors will carry out a thorough investigation using sensitive equipment, including thermal imaging and infrared cameras. This equipment works to detect areas of damp, excessive temperature changes, water leaks and mold growth that you can't see. Using this equipment, the technicians can get the job done without needing to remove walls or floorboards. They can and will test for mold in attics, basements, crawl spaces, around windows, under carpets and, of course, in the most susceptible areas of the bathroom and kitchen.
Mold releases spores into your indoor air. These spores carry bacteria that will damage your health and the health of anyone else under the same roof, including family, friends and any animals in the house. Black mold can develop and, if it does, know that it's toxic and will cause more serious health conditions, such as asthma and bronchitis.
Mold Busters' professional technicians are very experienced in completely removing mold. Calling us will ensure that you move into a clean, mold-free home.
Mold Testing vs. Mold Detection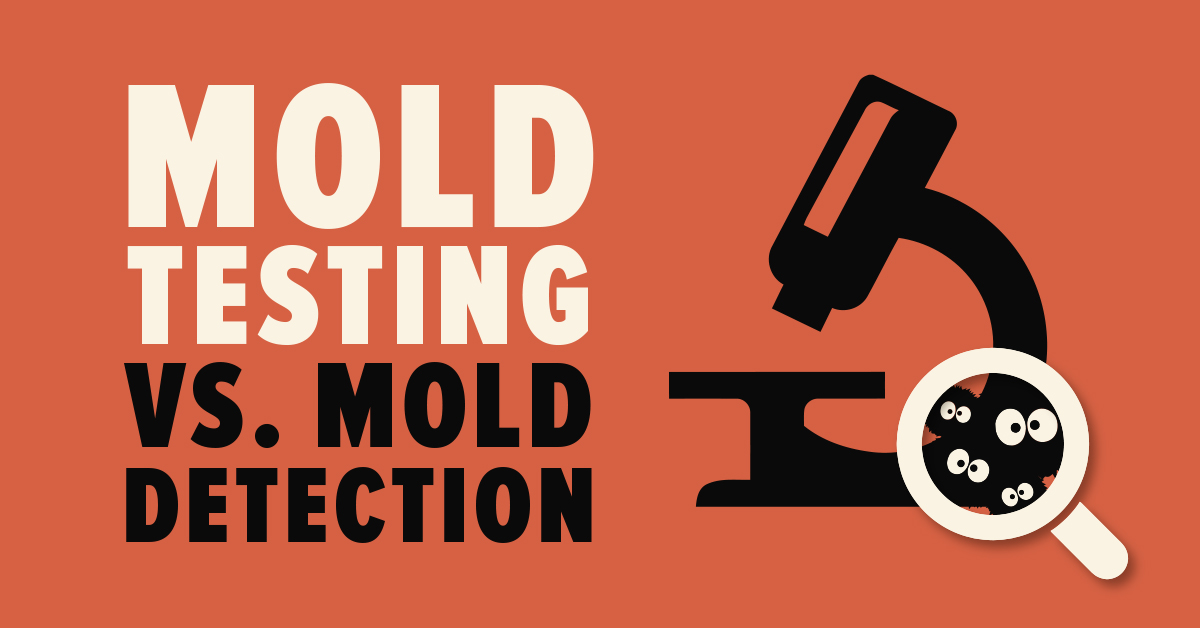 If you're trying to figure out if you have a mold problem in your home in Ottawa or Montreal cities, you can choose from a number of different services that will help determine for certain whether or not there's anything to worry about and whether or not remediation is the next, best step.
While having a wide range of services is great, in your search, you may stumble across two major options that might confuse you: mold testing or mold detection. They sound like they're probably similar services, but they do differ.
Mold Detection Service
Mold detection is a much broader term than mold testing, and it encompasses not just a physical test, but also any other method used to detect mold. This may or may not include a visual inspection of the affected area, an infrared scan or an odour inspection. An inspector carrying out mold detection will look for potential sources of water problems in your home, such as damaged plumbing and leaking roofs, which are common spots for water infiltration. Basements and crawlspaces are also equally susceptible to moisture buildup and standing water.
Mold Testing Service
Mold testing, on the other hand, is strictly limited to the laboratory tests performed on a material to determine whether or not mold is present. There are several ways to test for mold, including surface sampling and air quality testing. The results will tell you if the material tested actually contains mold and, if so, how much. The problem here is that mold content in the air is constantly changing from hour to hour, day to day, and room to room.
Considering the air and other indoor conditions do change often, mold detection may be a more effective option, if you want a bigger picture of the mold situation in your home. Due to its thoroughness, mold detection is critical in maintaining a healthy home or office environment.
How Can Mold Testing and Detection Help in Reducing Mold Related Symptoms?
Some homeowners want to monitor the air quality inside their homes to prevent mold from becoming a major threat. In this case, mold testing is the perfect tool because it can give you an accurate representation of the number of mold spores present in the indoor air.
We know that prolonged exposure to mold can cause health problems, but we know very little about how each individual is going to react to a mold problem. For example, some people may experience a mild mold allergy, while some people may develop serious respiratory illness. Others, still, may experience no symptoms at all.
What we do know is that several species of mold are known to cause respiratory problems to the point it's toxic. Mold testing allows us to identify if the mold growing inside our homes is allergenic, pathogenic or toxigenic. It also helps us determine the extent of the problem and plan for an effective mold removal.
To conclude, both methods (mold testing and mold detection) are an effective and highly recommended means of finding mold problems in your home. The method you use should depend on your specific needs.
A mold test will confirm the presence of mold and the extent of the contamination. If your home's been tested for mold and it's present, the next step is mold remediation.
Should I rely on home mold test kits?
Unless you are a professional, you should avoid direct contact with mold. Period. Testing can release mold spores that can cause allergies to act up, and can spread mold to other parts of your home. Using an at-home mold test kit has other downsides:
Mold samples are often misleading or the results are read incorrectly
Visual inspections are not included in home mold testing kits, and visual inspections need to be done by a pair of trained eyes. Professional mold services don't just focus on treating the mold itself, but on its causes too.
Since mold spores are present everywhere, less sophisticated home mold testing kits can be wrong.
Why choose Mold Busters for mold testing?
Mold testing provides fast and accurate answers to all of your air quality and mold-related worries. Our comprehensive mold testing services along with our reputation for excellence and customer satisfaction have made us one of Canada's leading mold testing, inspection and remediation companies.
On top of that, we are always innovating and looking for ways to make our mold testing and removal services more accessible to you. In fact, we have just launched our free mold inspection app that's available for Android, Apple and BlackBerry devices.
For more information about us or to book mold testing in Ottawa or mold testing in Montreal, give us a call today!