About Air Quality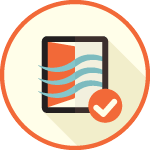 The quality of the air we breathe on a daily basis directly impacts our quality of life.
However, a number of factors affect both indoor and outdoor air quality, including pollution (e.g. smog), chemical reactions (e.g. off-gassing of VOCs) and natural biological processes (e.g. mold growth and pollination).
As residents of Ontario and Quebec, we are lucky to live in an environment that's relatively clean and free of outdoor air contaminants. However, that doesn't mean our indoor air is safe.
Because Canadians spend 90% of their time indoors, IAQ deserves a great deal of care and concern. When our indoor air quality falls below standard, we experience a wide variety of symptoms that can range from mild to severe, depending on the person.
Common reactions to poor air quality include coughing; sneezing; eye, skin and throat irritation; headaches; dizziness; fatigue; and nausea.
If you're concerned about the air in your home or office, call Mold Busters now to schedule your indoor air quality test. We provide same-day service across Ottawa and Montreal.