The Residential
Mold Removal

Course

Become a competent mold removal professional with this comprehensive online course
The demand for residential mold removal services is at an all-time high, as homeowners become increasingly aware of the detrimental impacts that mold can have on their home's structure, their indoor air quality as well as their health and well-being. Trained and knowledgeable mold removal experts are desperately needed to meet this growing demand in an industry that has been until now lacking in quantity and quality of professional development resources.
This is why Mold Busters has developed our online mold training course, derived from standards established by the IICRC and EACO. We teach professionals in this field the essentials of the mold removal process and solidify their knowledge of existing mold remediation standards. Best of all, everything is written in a style that's clear and easy to understand in order to facilitate the comprehension of complex concepts.
To be clear, these guidelines are not meant to replace existing protocols for mold remediation. Rather, they aim to enhance current standards by reformulating them in a way that is easier for readers to follow. We have broken them all down to the bare essentials and used our years of professional experience to illustrate how to apply those standards safely and effectively at any job site.
With this course, mold remediators will be able to apply expert-level principles of abatement and disinfection to any residential mold remediation project, and thus, better serve their clients.
What's included?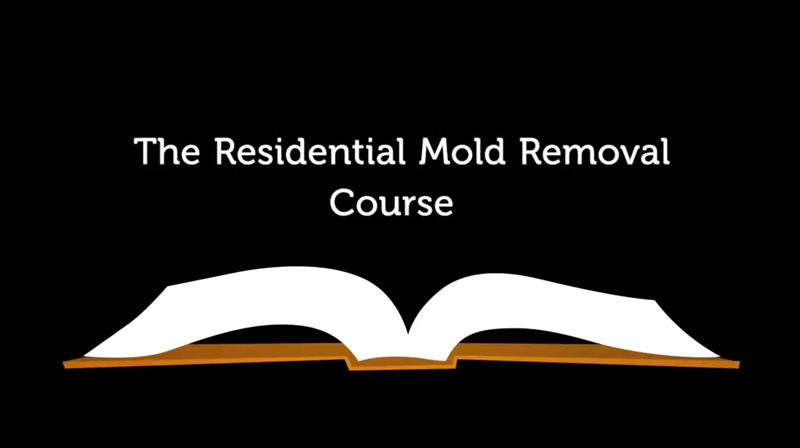 When you sign up for this online mold course, you get:
A digital copy of the latest edition of the Residential Mold Removal Guidelines, which includes over 65 pages of industry-proven insights to effective mold remediation;
A clear and comprehensive overview of the all steps involved in the mold removal process, from the initial scope of work assessment to the containment process, safe remediation procedures, proper disinfection and disposal, and the final clearance process
A complete description of safe work practices and personal protective equipment;
A summary of techniques and practices that are NOT acceptable for residential mold removal;
A photographic catalogue of common asbestos-containing materials (ACMs) found in households;
Figures, images and charts to better illustrate specific concepts;
A list of resources for further reading on various topics; and
A certificate of completion upon a passing grade of the final exam.
A "Verified Firm" badge that you can add to your website
A company profile on the Mold Busters website (which gets thousands of visitors each month)
A link to your website from your company profile
Your "Verified Firm" Badge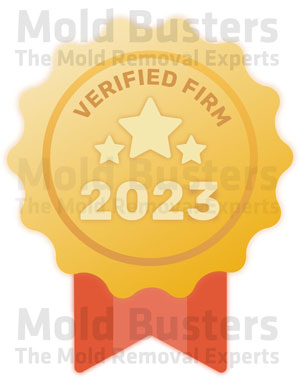 Trained in accordance with
RESIDENTIAL MOLD REMOVAL GUIDELINES
In addition to your certificate of completion, you will receive a badge that you can embed on your website to show your clients that you have completed the residential mold removal training and that you are committed to continuous learning.
This goes a long way in establishing trust with prospective clients, displaying authority in the field and showing your company's commitment to continuous education.
Who should take this mold training course?
Any professional employed in the remediation, disinfection or construction industry would benefit from the teachings of this course.
However, because the information and insights provided in this course are so far-reaching, they can also be helpful to:
Homeowners, landlords and property managers
Indoor environmental professionals
Mold inspectors and mold testing companies
Industrial hygienists, engineers & consultants
Contractors/sub-contractors, renovators & construction workers
General Labourers
Educators & health-care professionals
Why take the Residential Mold Removal course?
Continuous education in any industry is key to keeping up with the latest industry developments, meeting high-quality standards and, last but not least, satisfying your customers.
You can complete this course at your own pace from the comfort of your own home. Compared to other online mold training programs, our course offers great value in terms of both content and price.
Most importantly, you can always reach out to us for any questions or support. We have 15 years of professional experience fighting mold all over the world so there's no issue we haven't come across.
Let us help you become the best mold remediator you can be!
Special Discount & FREE Consultation for Industry Professionals
If you are indoor environmental industry professional you can get $25 OFF discount code & FREE Consultation about our course. Just fill the form bellow and we will send the code to your email address: