Mold Wallpaper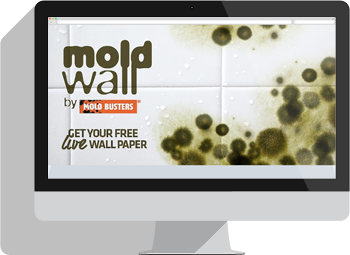 If you're as enthusiastic about mold as we are at Mold Busters, you'll be thrilled to know we now offer one of the world's first mold live wallpapers for Google Android and other devices.
We developed the mold live wallpaper with amazing life-like graphics, using the latest OpenGL technology. You'll see black mold exactly as you would if it were growing on your kitchen, bathroom or living room walls.
Mold live wallpaper entertains for hours
This wallpaper is a great way to pass the time while waiting in line, riding the bus, sitting in class, watching boring commercials, etc. All you have to do is use your finger to swipe at the mold and clean it before it takes over your phone.
You can even control the speed of its growth and the amount of mold you see on your screen. What's more, it's absolutely free. Download it here and start busting mold today.
CAUTION: This live mold wallpaper app can be extremely addicting.
Contact Mold Busters today to learn more about our wallpaper, games and other downloads. Also contact us to learn more about the services we offer Ottawa and Montreal residents. The expert mold removal and testing technicians at Mold Busters are happy to respond to questions and comments as soon as possible.
Like what you see? Join our Google+ circle, follow us on Twitter, like us on Facebook and visit our YouTube channel to get access to a lot more cool stuff!