Inspections for Cannabis Growing Facilities
Ensuring a healthy and safe environment for growing marijuana
Now that cannabis is legal in Canada, marijuana producers are popping up across Ontario and Quebec.
To ensure quality and healthy growth of marijuana plants, the cultivation of cannabis requires very specific conditions, including the right temperature, humidity and light. If conditions are not consistently and adequately met, you could end up with problems like black mold, which can affect the quantity and quality of your cannabis crop. That's where we come in.
Mold Busters offers inspection services for cannabis growing facilities to help cultivators ensure that conditions inside grow rooms meet Canada's safety and quality standards.
In fact, one of the main requirements for getting your cannabis licence is "Good Production Practices", which ensures the cleanliness of the premises and equipment where cannabis is produced. This includes mold–one of the main threats to grow rooms. To become a licensed producer of marijuana, you must ensure that your products are free of microbial and chemical contaminants.
Due to the high levels of humidity required to grow cannabis, indoor environments need powerful ventilation systems. When this gets overlooked and moisture is allowed to build up, cannabis growers often come face to face with issues like poor indoor air quality and mold, which affect not only the structure of the building, but also the health of the workers and the quality of the cannabis crop.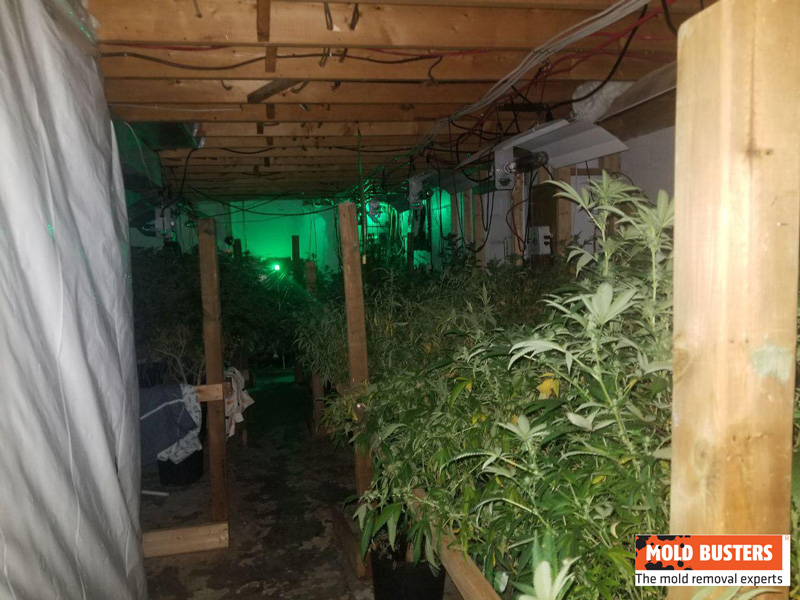 Our services are about keeping the indoor environment safe and free of contaminants that could compromise the quantity or quality of your cannabis. Contact us today for a free consultation with one of our indoor environmental professionals.
Mold in Cannabis Grow Rooms
Because the cannabis industry is still in its early phases, we have yet to see specific guidelines or protocols set out for assuring a high-quality product. This leaves a lot of room for error, not to mention opening the door to a number of safety hazards. The same problem exists when it comes to a facility's indoor environment (i.e. the conditions in which cannabis is cultivated).
Because regular mold inspections and air quality testing are not yet standardized, cannabis crops are left vulnerable to contamination. This is because cannabis grow rooms provide the ideal conditions for mold (high humidity and warm temperatures). A small contamination can quickly grow out of control, compromising or even destroying, your entire crop.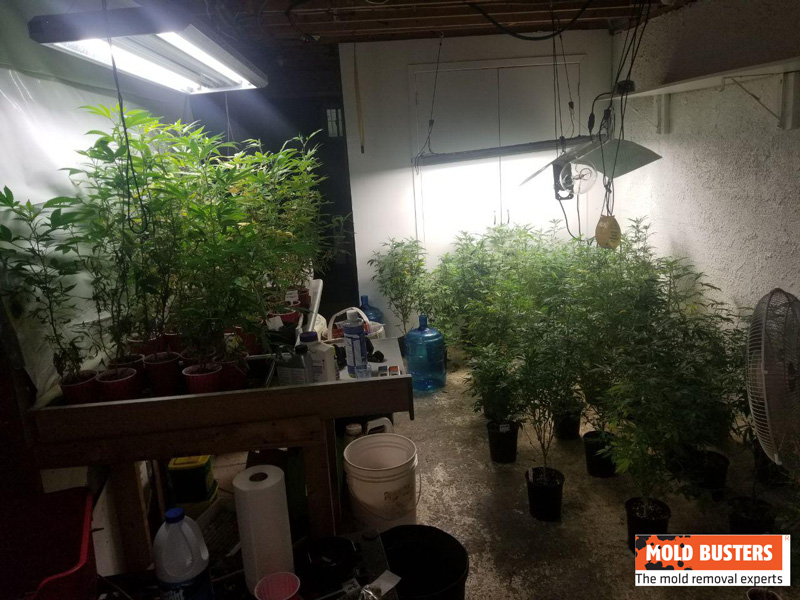 Once mold starts to form in your grow room, it can threaten not only the structural integrity of the building and the indoor air quality, but also the cannabis plants themselves. And because mold spreads quickly via microscopic spores, regular mold testing is a must for every cannabis producer. Call Mold Busters today to book your appointment. We'll take care of your indoor environment so you can focus on producing the best cannabis for your clients.
Why Mold Busters?
Marijuana grow rooms are not new to Mold Busters. Well before the legalization of marijuana, Mold Busters provided mold remediation services for marijuana grow ops that were heavily damaged by improper ventilation and moisture control.
We understand what conditions marijuana plants need to thrive because we've seen firsthand, and on numerous occasions, what improper cannabis cultivation can do to an indoor environment.
Our team is made up of the industry's top experts. Mold Busters inspectors and technicians have been working in the indoor environmental industry for nearly 15 years and are certified mold remediators, water damage restoration technicians and thermographers. Our common goal is to make the cannabis industry conscious.
The truth is that even experienced growers do not fully understand how to control humidity and remediate black mold without adversely affecting the plants.
If you would like to cultivate, produce or package marijuana or are working towards obtaining your cannabis licence, Mold Busters can help you set up the best environment for indoor cannabis cultivation as well as adapt your facilities to minimize the likelihood of black mold and other microbial growth. Call us today!
What You Get?
Whether you're a seasoned grower or just starting out, we can assist you in maintaining the perfect conditions for growing high-quality cannabis and avoiding common environmental contaminants like black mold.
We offer:
Mold inspections and air quality testing;
Thermal imaging inspections;
Moisture control;
Ventilation; and
Water damage restoration.
For more information on our cannabis-related services, give us a call and speak to an indoor environmental professional.