Chimney Inspection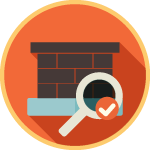 Ottawa & Montreal
Regular chimney inspections aren't just a wise addition to your roof maintenance plan, they're also required by most insurance companies. They can give you valuable information on the safety and condition of your fireplace or furnace.
Why yearly chimney inspections are good?
Chimneys that have not been inspected are at risk of a chimney fire that can spread from the roof structure to a whole property.
People often think that chimney inspection should be done only when chimneys are in used or after the heating season. The fact is that chimney should be check at least once a year, no matter if you are using it or not.
Although during the summer you probably don't use your chimney, it is very important to have it regularly checked. If you wonder why, let us remind you that during the summer birds (and other animals) tend to build their nest inside chimneys. Of course, once they decide to leave your chimney, they will leave behind their nests which will dry in time fire season is on again. Dried wood pieces and you starting a fire could be a potential disaster in no time.
Unlike most chimney inspectors, Mold Busters supplements visual inspections with an infrared scan to provide greater insight into the overall health of your chimney. These cameras allow us to check even hard-to-reach or inaccessible spots, which are usually overlooked in standard inspections.
During our assessment, we evaluate your chimney's overall stability, check for obstructions and identify common defects such as:
Deterioration of the chimney structure
Loose bricks and mortar
Improper chimney draft
Condensation and moisture
Missing chimney caps