Chimney Inspection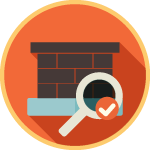 Ottawa & Montreal

Regular chimney inspections aren't just a wise addition to your roof maintenance plan, they're also required by most insurance companies.
At Mold Busters, we conduct non-contact, non-destructive inspections of your chimney using infrared cameras to detect problems that standard chimney inspections often miss.
During our assessment, we evaluate your chimney's overall stability, check for obstructions and identify common defects such as:
Deterioration of the chimney structure
Loose bricks and mortar
Improper chimney draft
Condensation and moisture
Missing chimney caps
Chimney inspections are very important, as they can give valuable information on the safety and condition of your fireplace or furnace.
Unlike most chimney inspectors, Mold Busters supplements our visual inspections with an infrared scan to provide greater insight into the overall health of your chimney. These cameras allow us to check even hard-to-reach or inaccessible spots, which are usually overlooked in standard inspections.
Call us now to schedule a visit from one of our thermal imaging experts. We're fully certified, and we offer same-day appointments!