Aerial Roof Inspection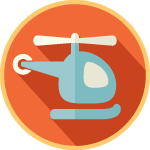 Ottawa & Montreal
Residential roof inspection
Making sure that your roof is in good shape is critical if you want to prevent structural deterioration, moisture intrusion into your attic and other problems such as mold growth. In fact, regular roof inspections and proper roof maintenance can literally triple the longevity of your roof!
Luckily, roof inspections are now faster, cheaper and safer than ever before thanks to advancements in thermal imaging technology, which allow you to identify issues with not just your roof, but also your chimney, building envelope, gutters, eavestroughs and other hard-to-reach or inaccessible structures.
At Mold Busters, we use today's high-resolution thermal imaging cameras to check the condition of your roof in a non-contact, non-destructive way. These inspections often reveal defects like:
Curling or cracking shingles
Missing roofing material
Poorly sealed flashing and flashing failure
Water penetration and standing water
Blocked gutters and poor water drainage
Low slopes
Cracks in and around chimneys
Wood rot, mold and mildew
Deficient fasteners and adhesives
Manufacturer defects
Roof inspection is very important, thus don't wait for it to become your major problem.