It's safe to say that we're living in the most advanced stages of human evolution, so we have access to virtually anything and everything at our fingertips.
A perfect example of this is infrared technology. An infrared survey is a highly advanced way to detect mold or other moisture problems in your home, even in spots that are impossible to see ourselves. With infrared inspections, we are using technology to improve and simplify otherwise time-consuming, expensive and truly dangerous processes.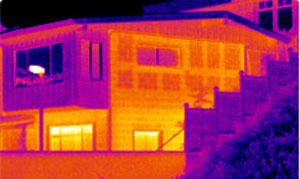 Infrared surveys of residential properties
Infrared surveys are becoming more and more popular, especially when it comes to their use in building diagnostics to find structural problems with both residential properties.
Residential infrared scans enable home inspectors to find otherwise hidden or hard-to-see problems, which jeopardize a home's safety and structural soundness. These problems include faulty electrical wiring, heat loss, plumbing leaks, roof damage, mold growth and poor insulation.
Getting an infrared survey of your home can save you a significant amount of money by identifying structural problems early on (thereby preventing them from getting worse) and by eliminating the need for an intrusive inspection (i.e. doing physical damage to your property in order to uncover the problem).
In addition, an infrared inspection is fast and provides instant results, so you can make key decisions regarding your home faster. Contact the professional thermographers at Mold Busters for more information about our residential infrared scans in Montreal.