Annual Air Quality Monitoring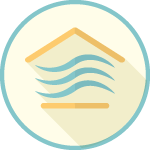 Ottawa & Montreal

Indoor air pollution is a big problem, one that's being recognized by Health and Environment Canada, the Environmental Protection Agency (EPA) and, last but not least, the World Health Organization (WHO).
Given that our indoor air quality directly impacts our health, it's important to make sure that the places we're spending most of our time in are free of air pollutants. This goes for workplaces, classrooms, doctors' offices and stores just as much as it does for homes.
Annual air quality assessments are highly recommended for residential properties, commercial buildings and public institutions to limit the negative health implications of decreased air quality.
Indoor air (a.k.a. ambient air) can be compromised by poor ventilation, off-gassing of furnishings, combustion processes and a number of biological and chemical contaminants.
The following buildings can benefit from annual air quality assessments:
Medical clinics and hospitals
Schools and daycares
Offices and government buildings
Nursing homes and retirement residences
Shopping centres
Gyms and fitness centres

At Mold Busters, we provide an annual air quality testing service, that will provide you with the information you need to maintain a pollutant-free living and working environment. Call us today to learn more.