Annual Indoor Air Quality Monitoring
Indoor air pollution is a big problem, one that's being recognized by Health and Environment Canada, the Environmental Protection Agency (EPA) and, last but not least, the World Health Organization (WHO).
Given that the air we breathe directly impacts our health, we must ensure that the places we're spending most of our time in are free of air pollutants. This applies to workplaces, classrooms, doctors' offices and stores just as much as it does for homes.
Indoor air (a.k.a. ambient air) can be compromised by poor ventilation, off-gassing of furnishings, mold contamination, combustion processes and a number of other biological and chemical contaminants.
Annual assessments, particularly in major cities like Montreal, are therefore highly recommended for the following types of structures:
Medical clinics and hospitals
Schools and daycare facilities
Offices and government buildings
Nursing homes and retirement residences
Shopping centres
Gyms and fitness centres
Mold Busters can help provide the information you need to maintain a pollutant-free indoor environment.
Air quality monitoring and routine maintenance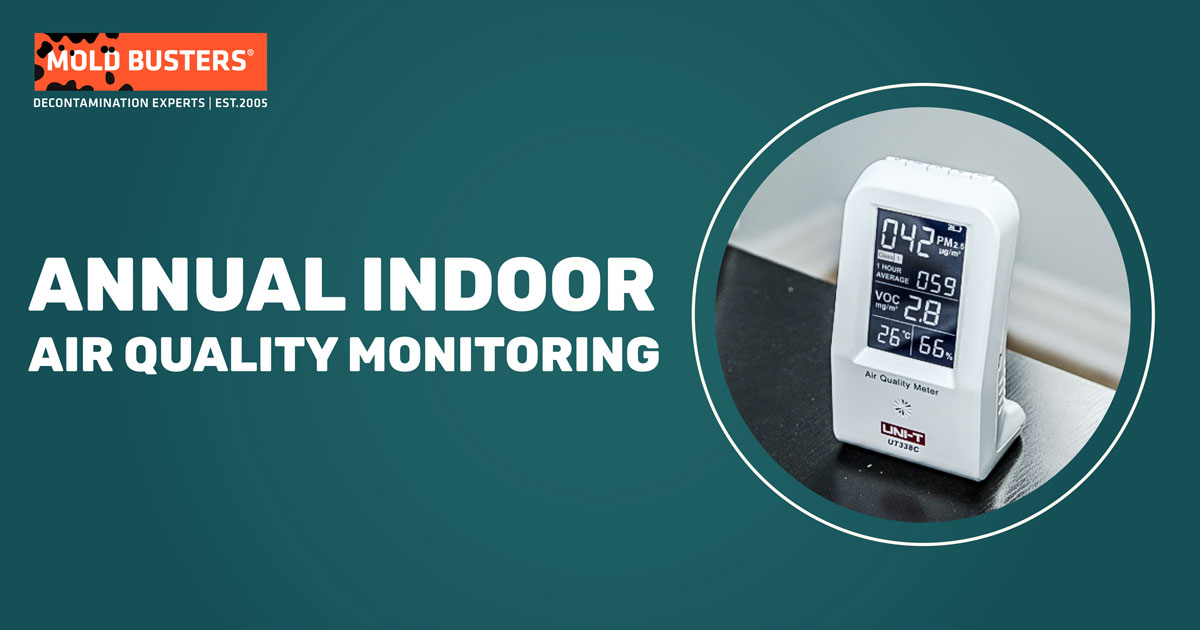 Monitoring our indoor air is often overlooked. When people don't see or smell a problem, they often assume it's not there. However, many pollutants are completely odourless and colourless, so their presence is difficult to identify and exposure is hard to control.
The purpose of air quality monitoring is to:
Determine the types and levels of air pollutants present in the indoor environment
Identify the source(s) of these pollutants
Identify which areas are most affected
Improve overall indoor air quality
This does not have to mean big or costly changes to your routine maintenance program. It's actually a simple and quick procedure that gives an accurate snapshot of your indoor air. A series of tests are taken from the most frequently used parts of a building as well as outside (this acts as the baseline sample).
It takes only a couple of minutes to gather the air samples, and the results are ready in as little as 24-48 hours. A full digital report is delivered to you, outlining any pollutants identified in the sample and the concentrations in which they are found. Best of all, it's discrete.
Using the information provided in this report, you can act to reduce the concentration of air pollutants in your indoor environment and promote healthy living.
For more information about annual air quality assessments, including virtual inspection options or to book a consultation in Ottawa, contact Mold Busters now!