While every house is unique in its age, design and history, each and every one is susceptible to mold. Current research shows that all constructions, new or old, are at risk of developing mold problems.
In fact, brand new houses have a particularly high vulnerability to mold as they are built to be air tight and energy efficient.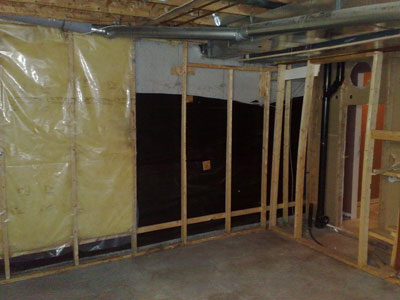 Surprised? Most people are because they mistakenly believe that new homes are cleaner and more resistant to mold.
At Mold Busters, we have seen even four-month-old residences completely devastated by mold. The fact that the homeowners didn't consider getting occasional mold testing allowed the mold problem to spread throughout the walls, unseen by its owners.
Detect mold early on to prevent costly damage
The good news is that this kind of damage can be minimized, and even completely avoided, with professional mold detection. This means that if you catch a mold problem early on, before it has spread out of control, you can save a great deal of time, money and frustration.
However, because mold can reproduce quickly, you must not forget or put off performing regular checks of your home, preferably with the help of a professional mold detection company.
Many residents of Montreal have found Mold Busters to be the fastest, most reliable, and most affordable mold detection company in town.
If you're worried about a mold problem, we strongly suggest getting one of our certified mold inspectors to come in and take a professional look. Contact us today. You'll be glad you did.