Attic Insulation Removal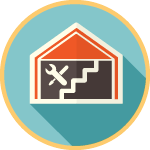 Ottawa & Montreal
While there are many reasons why attic insulation removal is important, one of the most common ones is to remove Zonolite insulation, which is known to contain hazardous asbestos or contaminated vermiculite.
Sometimes, removing roof insulation is necessary in order to properly treat a mold problem. And other times, the insulation is just old, worn out and needs to be replaced.
The Mold Busters team uses high-powered industrial vacuums in combination with HEPA filters for attic insulation removal in Ottawa and Montreal. The result leaves your home completely free of any dust or other airborne particles.
Our experts stay protected by wearing regulation respirators, which allow them to move and breathe freely during the entire remediation. After several rounds of HEPA vacuuming, your attic is left completely clean and ready for whatever you have planned next!
Call us today to get started—book roof insulation removal in Montreal or Ottawa today.