Oops… How an Ottawa Air Duct Cleaning Company Accidentally Exposed Our Client to Asbestos
The client in this case study was an elderly woman, who had divided her large East Ottawa home into three apartments. She occupied the main level and rented out the spacious upper level to her son and the basement to a family friend. She relied heavily on contractors and other service professionals to help her with regular household maintenance.

Location
Rideau-Rockcliffe, East Ottawa

Client
Residential, landlord

Problem
Tenant complaining of difficulty breathing; suspects hidden mold in the basement.

Service Provided
Diagnostic Mold Inspection
Could mold be causing unexplained health problems?
This is one of the most common inquiries we receive. Usually, people feel they have a problem before they can actually see it.
In order to find out if mold was the reason why her tenant was experiencing unpleasant symptoms, she hired us to provide a thorough and unbiased assessment of her basement apartment.
Our thorough basement inspection revealed…asbestos
This situation took a drastic turn for the worse the moment we walked into the basement. Right away, our inspector noticed something that the elderly landlord had been completely oblivious to: asbestos.
Exposed asbestos insulating wraps were found throughout the basement, covering the duct work and heat registers. Although not uncommon for an older home like this one, they were certainly a shock for the homeowner, who had been living there for over 40 years.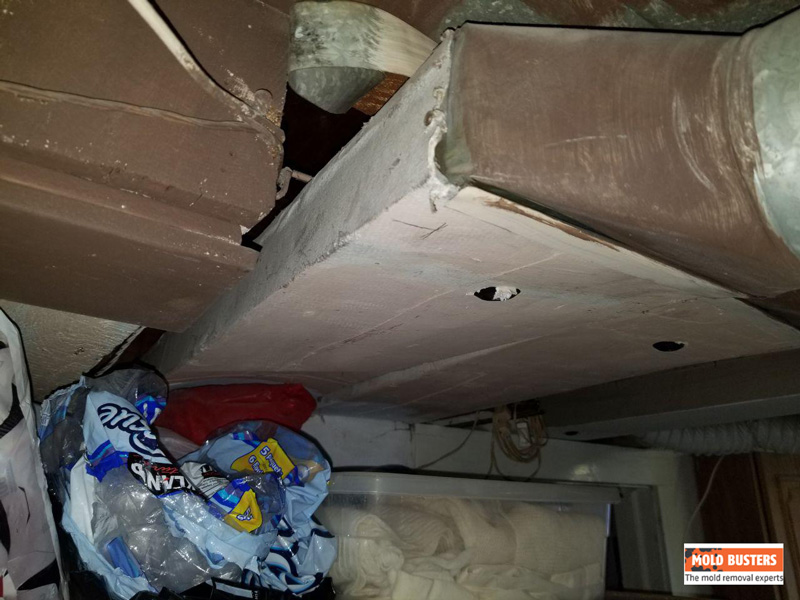 What is asbestos duct wrap and is it dangerous?
Asbestos duct wrap is a material that resembles white paper. It adheres to sheet metal and acts as a thermal insulator to optimize energy efficiency and prevent condensation in HVAC systems.
One of the dangers of asbestos duct wrap is that it degrades over time. During this degradation process, asbestos fibres get dislodged and released into the air. Once airborne, asbestos can be inhaled and can cause serious consequences, such as asbestosis of the lungs, mesothelioma, and even cancer.
One of the dangers of asbestos duct wrap is that it degrades over time. During this degradation process, asbestos fibres get dislodged and released into the air. Once airborne, asbestos can be inhaled and can cause serious consequences, such as asbestosis of the lungs, mesothelioma, and even cancer.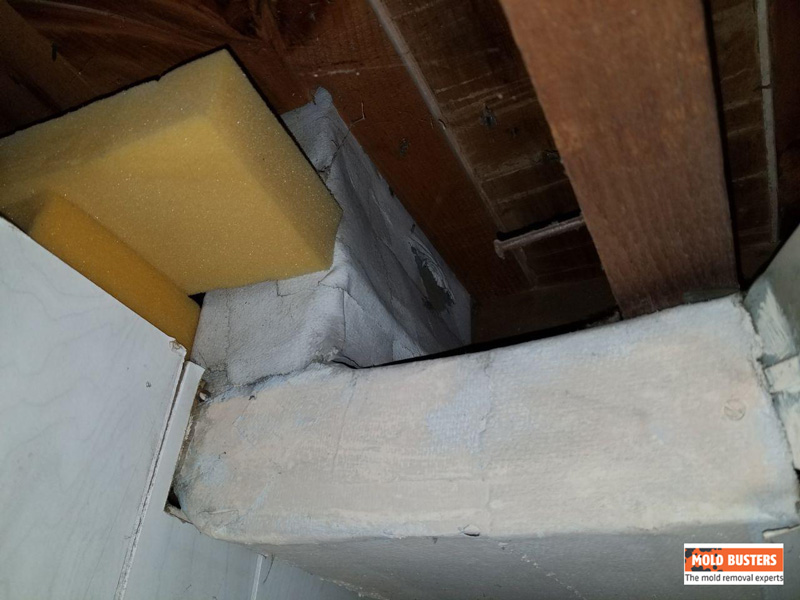 Worst of all, because duct wrap is typically found near HVAC systems, disturbed asbestos fibres can often enter the air ducts and spread throughout the entire home.
Careless installation of air duct plugs
Further into our basement investigation, we noticed little black duct plugs throughout the area. Usually, this is a good sign because it indicates that the ducts were cleaned at some point. However, in this case, it made us worry even more…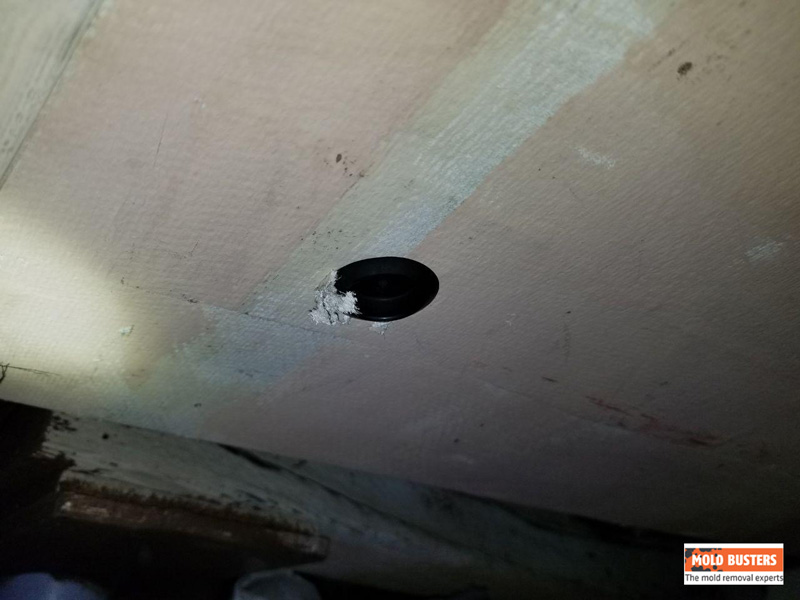 Notice how the plug is going through the asbestos wrap into the duct work? This means that the frayed ends of the asbestos material could actually be inside the duct, allowing disturbed asbestos fibres to circulate through the ventilation system and enter the ambient living space! This was carelessness or ignorance at its peak as far as indoor environmental safety goes.
We proceeded to check the furnace to see when it was last serviced. To our amazement, it has been regularly serviced and cleaned. In the image below, we have blurred out the company logo as well as the names of the workers involved. But what you can see is that the furnace had been last serviced in September 2018. (We conducted our assessment just a few months later.)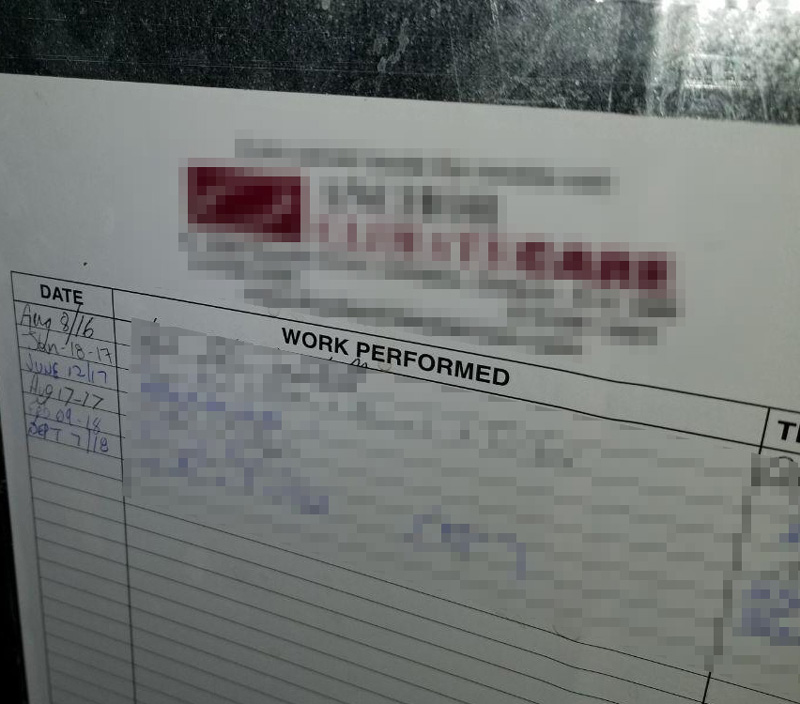 In all of the years that our client had been hiring contractors and other professionals to help her around the home, not a single one had ever mentioned the suspicious asbestos-like material in her basement.
What worried her the most is that she regularly made trips to her basement to do laundry. Directly above her head was the asbestos-containing material that had been disturbed by the air duct cleaners.
Getting the air duct cleaners to accept responsibility
Seeing this disaster, we wanted to know one thing: was this Ottawa air duct cleaning company aware of the risk they had created for their client and their workers?
So, we called them! Click on play button to listen the call:
To be fair, the duct cleaning company did have some knowledge about asbestos. As you can hear in the recording, they even admitted that disturbing asbestos materials was bad. And although we didn't expect them to have an in-depth understanding of asbestos abatement protocols, we were surprised at the technicians' negligence in informing the client of the potential for danger due to possible asbestos around the duct work and in taking precautions not to disturb the material when cleaning the ducts.
Removing the asbestos safely and restoring healthy indoor air quality
Our goal now was to help our client create a safe indoor environment for herself and her tenants. So we put together a thorough asbestos abatement plan to remove all of the asbestos-containing materials (ACMs) around and inside the air ducts of the home. We also included proper cleaning of the air ducts, HEPA vacuuming, and complete decontamination of all surfaces and materials.
After the asbestos abatement was completed, the asbestos air quality tests collected throughout the home revealed normal fibre counts. Our client finally had peace of mind and informed us of her intent to consult a lawyer regarding the negligence of the air duct cleaning company whom she had hired.
Choose your contractors wisely
The most unfortunate part of this story is that this isn't the first time we have come across this type of scenario, and, unfortunately, it probably won't be the last. We know that education and awareness is key–not only for homeowners, but also for service professionals and companies whom we entrust to do a safe and proper job. Our environment hazards resource page is a great start.
Whatever the outcome is for our client, we are happy that we were able to identify and remove the hazardous materials from her home. At the same time, we hope that we have been able to encourage her to be more vigilant when choosing contractors. We're more than just mold inspectors–we care and we're here to help. Contact us with your questions or concerns.
How We Help People of Ottawa?