Indoor Air Quality Testing in Gloucester – Office Case Study
In this case study, we will explore how an office building that looked clean and safe on the outside was actually resulting in employee illness, poor performance and absence.
While the cause was not obvious, Mold Busters did get to the bottom of it and our remediation technicians restored healthy indoor air quality in the building.

Location
Gloucester, Ottawa, ON

Client
Federal government

Problem
Employees were losing energy throughout the day and getting sick on a regular basis.

Service Provided
Indoor Air Quality Analysis
Sick Building Syndrome is real
When the Mold Busters Ottawa team was contacted by the maintenance manager of a federal client complaining of staff with unusual and persistent symptoms, we knew right away that we had our work cut out for us. Typically when a client complains of Sick Building Syndrome (a condition characterised by chronic illness related to the indoor environment), the cause is ambiguous. It could be anything from off-gassing of furniture and lack of hygiene to leaks and mold growth. Here's what we found.
Uncovering the root of the problem
We had to start somewhere, so we began with our comprehensive indoor air quality assessment.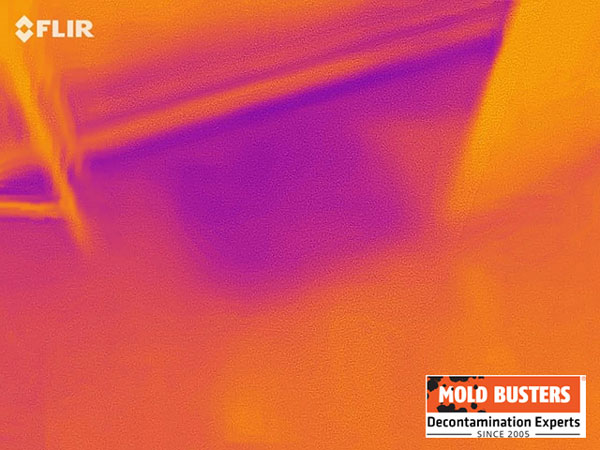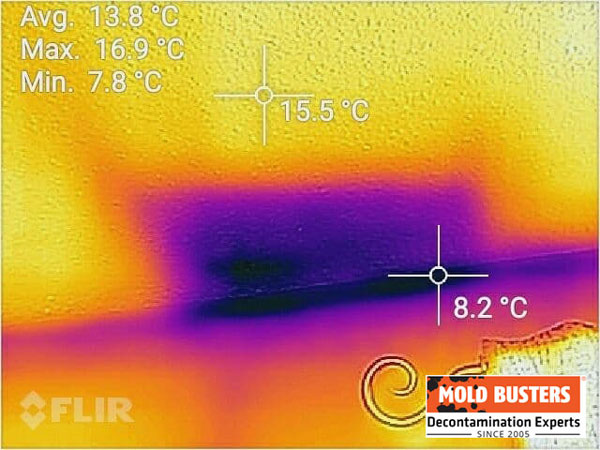 Thermal imaging that identified anomaly, which was confirmed to be active moisture along the floor, under carpets.
Our indoor environmental inspector met with the owner of the building as well as the maintenance manager to discuss the building's history and perform a thorough visual inspection of the indoor environment. With no history of leaks, the building didn't have any visible signs of mold growth. However, from our experience, we know that just because you can't see mold doesn't mean it's not there.
Locating leaks using thermal imaging
We then used thermal imaging (infrared) to look for abnormalities behind walls. The result of our infrared scan? The central air conditioning units had been slowly leaking over the years, causing mold to grow along the floor underneath the carpet. This was further confirmed by our moisture metre readings.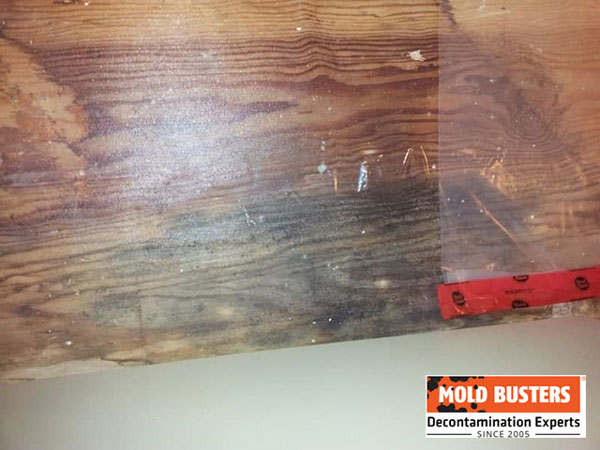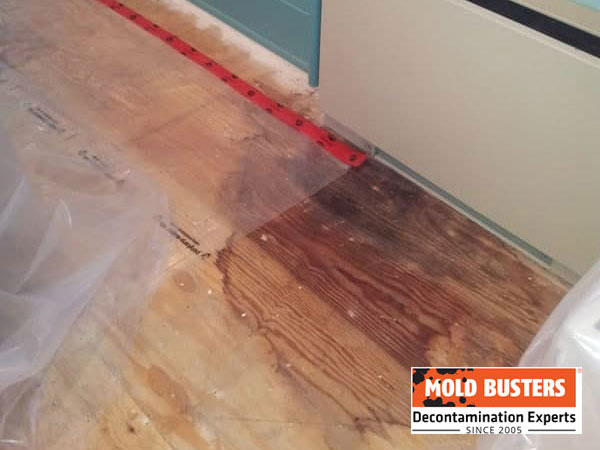 After the discovery of active moisture, the carpet was pulled back to reveal discolored subflooring
Measuring mold spores using IAQ testing
We then proceeded by taking indoor air quality tests in the affected areas. The results showed that the air samples from the office areas contained high levels of toxic mold spores. So this was the reason people were getting sick! They had been breathing in toxic mold and didn't even know it.
Getting rid of the mold for good
The building owner doubted us until we showed him the technical readings and measurements. Mold Busters uses highly precise tools and accredited third-party laboratories to test all our samples. It's hard to deny scientific data.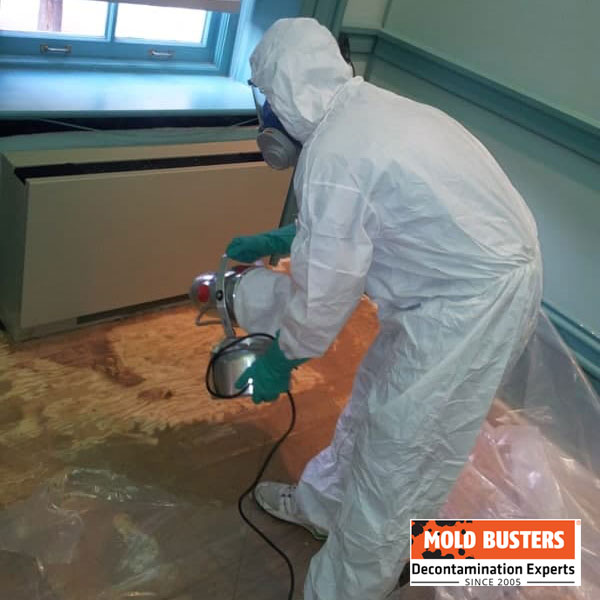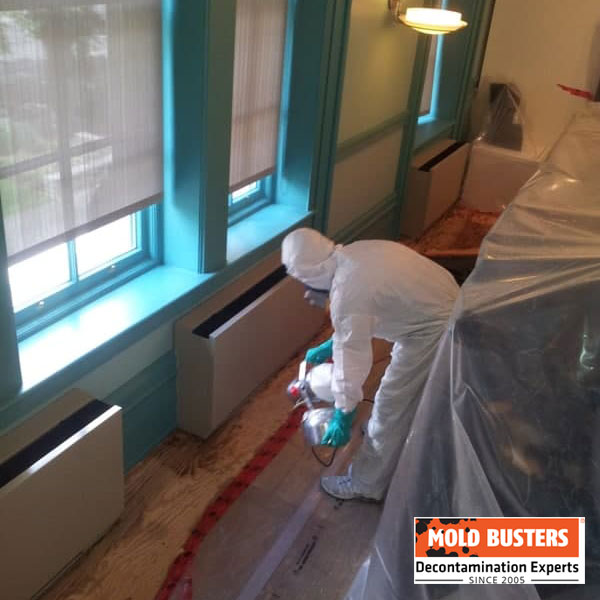 So when it came time to remove the mold from the building, we developed a strategic, step-by-step plan in accordance with IICRC's Guidelines for Mold Remediation.
We set up proper containment of all work areas prior to beginning any remediation work.
We ensured all leaking air conditioning units were fixed and re-insulated.
We disinfected all surfaces and materials in the office areas.
We reduced relative humidity to 30 per cent (rather than 50 per cent), and installed humidity monitors in every floor of the office.
We safely disposed of all contaminated and/or water-damaged materials (including air conditioning filters).
We performed another indoor air quality test after the remediation work was completed to verify a job well done.
The results of our post-remediation air quality testing showed normal indoor air quality—no more mold! About one week later, the maintenance manager contacted us to say that office workers were happy with our work and no longer reported feeling ill.
The importance of a comprehensive indoor air quality investigation cannot be overstated
To put all of the blame on the building owner or maintenance team would not be fair. No building owner can completely control microscopic-sized leaks without specialized detection tools, so it wasn't anybody's fault. These problems simply weren't visible to the naked eye. However, it does go to show that regular checks and inspections of your indoor environment (including your HVAC systems) can go a long way in ensuring a healthy and safe indoor environment.
If this sounds familiar, and you're experiencing symptoms related to Sick Building Syndrome at work or at home, book an air quality test today. Remember, finding the cause early is key to restoring indoor air quality and ensuring good health. Fortunately, Mold Busters brings over 15 years of experience to the table. We understand buildings from the inside out and know where to look for problems related to poor indoor air quality. Call us at 613-262-3242 to learn more.
How We Help People of Ottawa?