Vermiculite Testing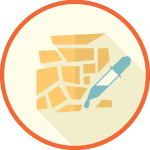 Ottawa & Montreal
There has been a lot of worry and controversy surrounding vermiculite attic insulation over the past couple of decades. Why? Before 1990, most of the world's vermiculite was extracted from a mine in Libby Montana, sold under the brand name Zonolite® and later found to contain 1–3% asbestos. This type of insulation was mostly used in attics.
As such, older homes and buildings (those built between the 1940s and 1990s) are at a higher risk of containing asbestos-contaminated vermiculite insulation.
If you are in doubt, your safest bet is to schedule professional vermiculite testing in Ottawa with the experts at Mold Busters. Vermiculite testing in Montreal is also available.
Asbestos contamination can risk serious health concerns for families and many prefer to clean up vermiculite to remove any risk.
To ensure the most accurate results, we take four different samples of the insulation. We also set up proper containment and wear protective gear to ensure our safety and yours.
With quick turn around times from certified labs, Mold Busters has worked with partners and landlords to ensure that the risk posed by vermiculite is minimized and controlled in a cost-effective way.
Not all asbestos needs to be removed – if it can be properly contained – and Mold Busters experts are trained to educated you about the real dangers. Should vermiculite be found, they are also trained to find the most efficient way to ensure the safety of families on the property.
Call us now to get started!