There has been a lot of worry and controversy surrounding vermiculite attic insulation over the past couple of decades. Why?
Before 1990, most of the world's vermiculite was extracted from a mine in Libby Montana, sold under the brand name Zonolite® and later found to contain 1–3% asbestos. This type of insulation was mostly used in attics. Vermiculite can also be found behind walls, around electrical components, and even within concrete block-wall construction.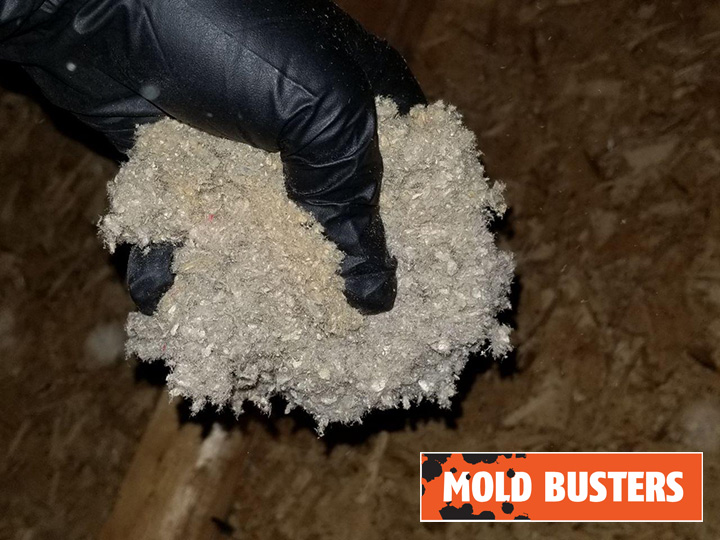 As such, older homes and buildings (those built between the 1940s and 1990s) are at a higher risk of containing asbestos-contaminated vermiculite insulation.
If you are in doubt, your safest bet is to schedule professional vermiculite testing in Ontario with the experts at Mold Busters. Vermiculite testing in Quebec is also available.
Asbestos contamination can risk serious health concerns for families and many prefer to clean up vermiculite to remove any risk. Asbestos has been linked to serious health concerns, such as asbestosis, mesothelioma, and lung cancers.
To ensure the most accurate results, we take a minimum of four different samples of the insulation throughout the area of concern. In some cases, we may also set up a containment unit and run a HEPA air scrubber. We always wear the recommended personal protective equipment (PPE) when collecting samples of vermiculite insulation.
With quick turn around times from certified labs, Mold Busters has worked with partners and landlords to ensure that the risk posed by vermiculite is minimized and controlled in a cost-effective way.
If asbestos is confirmed to be present within the collected vermiculite samples, Mold Busters experts are trained to educated you about the real dangers, and what the next steps ought to be.
Mold Busters will always recommend the most effective methods for ensuring safety within the property is secured for all involved.
Call us now to get started!
Our Vermiculite Testing Service Areas in Ontario
Our Vermiculite Testing Service Areas in Quebec
Vermiculite Testing for Asbestos in Canada
What is vermiculite?
Vermiculite is a mineral used in a variety of commercial and consumer products for its unique fire-resistant properties, which make it a great insulator.
Because of this, vermiculite was once a very popular option for loose-fill insulation in attics. It can also now be found in a number of items like acoustic panels, gas fireplaces, insulating concrete, brake linings in cars, fireproofing wallboard, soil fertilizers, packing materials and firestop pillows.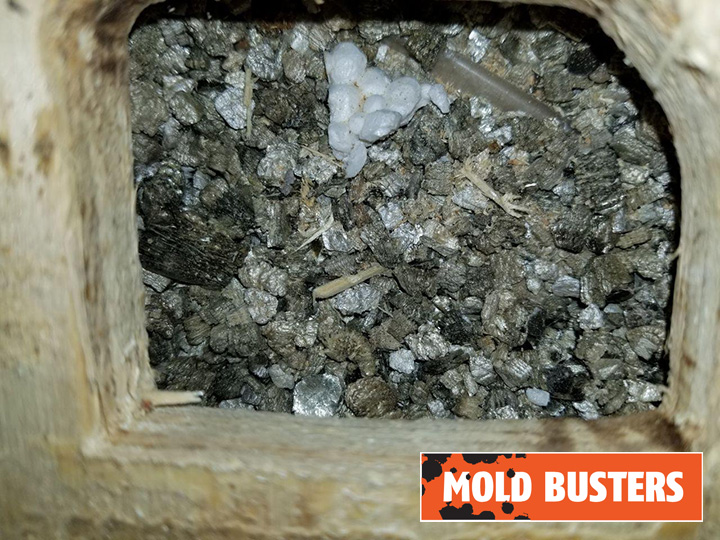 It's important to remember that vermiculite in its pure form is not dangerous. What's more, not all products that have vermiculite as an ingredient contain asbestos. The products of biggest concern are loose-fill or blow-in attic insulation.
Once again, if you have any doubts, don't hesitate to contact an expert for professional vermiculite testing and analysis.
Much like surface sampling for mold, a vermiculite test involves taking a sample of the suspected material and sending it to an accredited lab for analysis. The results of this testing will reveal whether or not the insulation contains any asbestos fibres.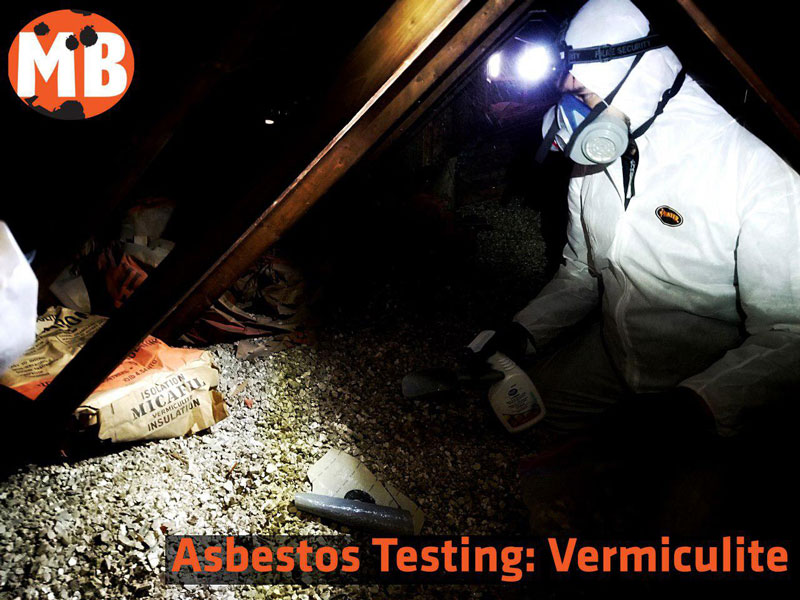 Safety tips for handling vermiculite
Aside from getting a professional vermiculite test, you can also take these simple steps to reduce the health risks associated with exposure to asbestos-containing vermiculite.
Assume that any vermiculite in your home contains asbestos and avoid contact with it.
Do not disturb loose-fill vermiculite insulation.
Wear a respirator mask, gloves, long sleeves, and protective goggles if going near the vermiculite.
Avoid touching the insulation.
Avoid using spaces with exposed vermiculite insulation for storage.
Do not allow children near loose fill vermiculite insulation.
Do not attempt to take samples of vermiculite yourself.
Your health and safety are important to us, which is why we strive to deliver the fastest and most reliable vermiculite testing services for both residential and commercial properties.
Book vermiculite testing in Ottawa or vermiculite testing in Montreal today. Contact Mold Busters.
Mold Busters Celebrates 15+ Years in Vermiculite Testing Business
Common FAQ's about vermiculite testing
How dangerous is vermiculite?
Not all vermiculite contains asbestos. It is important to get vermiculite testing prior to removing or disturbing it. An indoor environmental professional will know where and how to take proper samples, which will allow the lab to determine whether the vermiculite is asbestos-containing.
Asbestos-containing vermiculite insulation carries a higher risk potential for exposure due to its friability, in comparison to non-friable asbestos materials (such as vinyl floor tile, for example).
Does all vermiculite contain asbestos?
No, not all vermiculite contains asbestos. Even if the vermiculite of concern was installed during the golden years of asbestos, it does not guarantee that asbestos was used in the installed vermiculite. The most effective way to determine this is by having the vermiculite sampled by an indoor environmental professional and analyzed by an independent laboratory.
Good news, vermiculite sold today does not typically contain asbestos.
What is the difference between perlite and vermiculite?
Vermiculite is a group of minerals (aluminum, iron, magnesium) mined from rocks. Vermiculite expands greatly when heated over 880 degrees Celsius.
Perlite, or volcanic glass, is formed when lava spews out of a volcano and cools rapidly. This volcanic glass is saturated with water. When heated significantly, perlite expands due to the water exploding, evaporating, and creating tiny air pockets.
Perlite retains water of the outside of itself, which facilitates plants to get the water it needs. This is great for plants that need the soil to dry out between watering.
Vermiculite, on the other hand, absorbs the moisture in its accordion-shaped, expanded form. Vermiculite can absorb 3-4 times of its volume in water, which is ideal for keeping the soil moist.
Does vermiculite decompose?
Vermiculite decomposes with time and releases potassium and magnesium, most commonly used in agriculture. The vermiculite found in attic insulation is not exposed to the elements that it would be when it is used in agriculture, therefore it does not decompose as quickly, especially if it is asbestos was added into the vermiculite.