Vermiculite Testing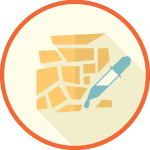 Ottawa & Montreal
There has been a lot of worry and controversy surrounding vermiculite attic insulation over the past couple of decades. Why? Before 1990, most of the world's vermiculite was extracted from a mine in Libby Montana, sold under the brand name Zonolite® and later found to contain 1–3% asbestos. This type of insulation was mostly used in attics.
As such, older homes and buildings (those built between the 1940s and 1990s) are at a higher risk of containing asbestos-contaminated vermiculite insulation.

If you are in doubt, your safest bet is to schedule professional vermiculite testing in Ottawa with the experts at Mold Busters. Vermiculite testing in Montreal is also available.

To ensure the most accurate results, we take four different samples of the insulation. We also set up proper containment and wear protective gear to ensure our safety and yours.
Call us now to get started!