Radiation Testing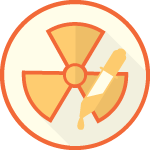 Ottawa & Montreal
Following the nuclear catastrophe several years ago in Fukushima, Japan, a growing number of Canadians are concerned about nuclear radiation making its way into their homes.
This concern is not unfounded as, each day, debris from the nuclear accident in Japan is washing up on the shores of the West Coast.

Harmful radiation can also enter our homes through soil, water, air, food, and building materials. However, because we cannot see, smell or feel it, we have no idea if we are being exposed to harmful rays.
That's why radiation testing and monitoring is so important. At Mold Busters, we have started offering radiation testing services to give you peace of mind that your home and your loved ones are safe. Contact us today and ask about our radiation testing services.