Lead Testing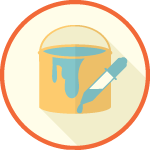 For most people, a big concern is not knowing whether the products they are bringing into their homes are safe. From the paint we use in our living rooms to the candy we give to our children, lead can hide anywhere.
While there's not much we can do to prevent lead-contaminated products from making it onto store shelves, there is something we can do ensure that our homes stay safe.
At Mold Busters, our lead testing in Ottawa targets key items in your home that are known to cause lead poisoning. These include
Baseboards
Heating units
Doors
Fireplaces
Artificial turf
Window panels
Children's toys
We also know that homes built before 1978 are at a greater risk of containing lead because they were constructed before the widespread ban of lead paint was enforced.
If you suspect this is a hazard in your home, don't wait to contact Mold Busters in Ottawa, especially if you have small children. We also offer reliable lead testing in Montreal