Soda Blasting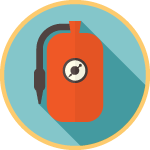 Ottawa & Montreal
Did you know sodium bicarbonate (baking soda) can be used for high-powered cleaning and disinfection?
It removes odours, dirt, grease, chemical residues and tough stains from a variety of materials including metals, concrete, stone, wood and plastic.
Baking soda breaks down upon impact without causing damage to the surface it's being applied to. What's more, it's a natural deodorizer and disinfectant so it's completely safe to use.
At Mold Busters, we offer soda blasting in Ottawa as one of our many removal and remediation services that will get the job done right—the first time. We offer soda blasting in Montreal as well, to all residents and business owners in need of a thorough clean.
Call us today to get started.
What can soda blasting be used for?
As a powerful and effective cleaning method, soda blasting is perfect for the following purposes:
Mold and mildew removal
Automotive restoration
Fire and flood restoration
Rust removal
Paint stripping
Graffiti removal
Cleaning cars, boats and masonry
Disinfection of food processing equipment
When it comes to mold removal, soda blasting is a lot like dry ice blasting—it effectively gets rid of visible surface mold and ensures that homes with black mold problems stay clean and safe.
Unlike dry ice blasting, soda blasting is cheaper and quicker, although it does create more dust and debris.
What is soda blasting?
Soda blasting is the process of propelling sodium bicarbonate (baking soda) with compressed air through a blast nozzle. When applied against a surface, the impact is strong enough to strip away graffiti, paint, dirt and even black mold.
The unique characteristics of sodium bicarbonate make soda blasting desirable as:
A non-destructive method of mold removal: Soda blasting is surface friendly, meaning that it does not damage or scratch surfaces while ensuring a clean and mold-free environment.
A very effective cleaning process: When combined with mold removal, it also deodorizes and eliminates odours.
An environmentally friendly, non-toxic and non-hazardous alternative to cleaning.
A quick process: Simply spray the surface and wipe away the mold in seconds.
To find out more about soda blasting in Ottawa or Montreal or to book your appointment, call Mold Busters now.