Dry Ice Blasting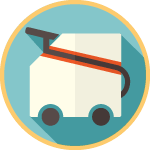 Ottawa & Montreal
Dry ice blasting is the perfect solution for cleaning all types of surfaces. A less abrasive but equally effective alternative to soda and sand blasting, it can be used for cleaning even the most fragile of objects.
Basically, dry ice is frozen carbon dioxide that is expanded into the shape of a pellet and blasted at rapid speeds through an air gun, thereby instantly cleaning ANY surface of unwanted dirt, oil, residue and even mold.
This approach is gentle, fast and environmentally friendly – not to mention, it leaves behind no mess and no chemical residues. This is because dry ice pellets evaporate at room temperature, leaving behind no visible trace.
Believe it or not, this service could actually be the answer to your persistent and unpleasant mold problems.
If you're in need of dry ice blasting in Ottawa, Mold Busters has you covered. What's more, we offer the same effective dry ice blasting service in Montreal. We'll assess your needs and provide the best possible solution for your specific environment. Contact us to get started!
Applications of dry ice blasting
Because dry ice blasting is a safe and mess-free way to achieve a deep clean, it has quickly become the method of choice for
Mold and mildew remediation
Paint stripping
Treatment of wall discoloration
Removal of soot and smoke damage
Oil stain removal
Graffiti removal
Rust removal
Industrial equipment maintenance
Cleaning and disinfection of food-processing equipment
General cleaning
As you can see, dry ice blasting is a fast, effective and a safe method of achieving a thorough clean. Moreover, dry ice won't damage the surfaces that it is applied to, and it does not involve the use of harsh and hazardous chemicals.
Call Mold Busters, the dry ice blasting pros in Ottawa and Montreal, to learn more about this amazing technology!