Blown Cellulose Insulation
Professional Insulation Services in Ottawa and Montreal
According to Hydro Ottawa, heating and cooling activities account for 60% of energy use in our homes.
Insulation prevents heat from entering your home during the hot summer months and traps warm air inside when it's cold. Proper insulation can greatly reduce your home's energy costs (by as much as 30%), not to mention create a more comfortable and enjoyable indoor environment.
This is especially important in Ottawa and Montreal, where the long, cold winters often lead to spikes in energy consumption. The most susceptible areas to heat transfer are exterior walls, attics, basements and crawl spaces.
If your home is missing insulation or you need to upgrade existing insulation in any of these areas, Mold Busters can help. We offer fast, affordable and reliable insulation installation services for cellulose (blown-in) insulation. Optimize your energy efficiency today!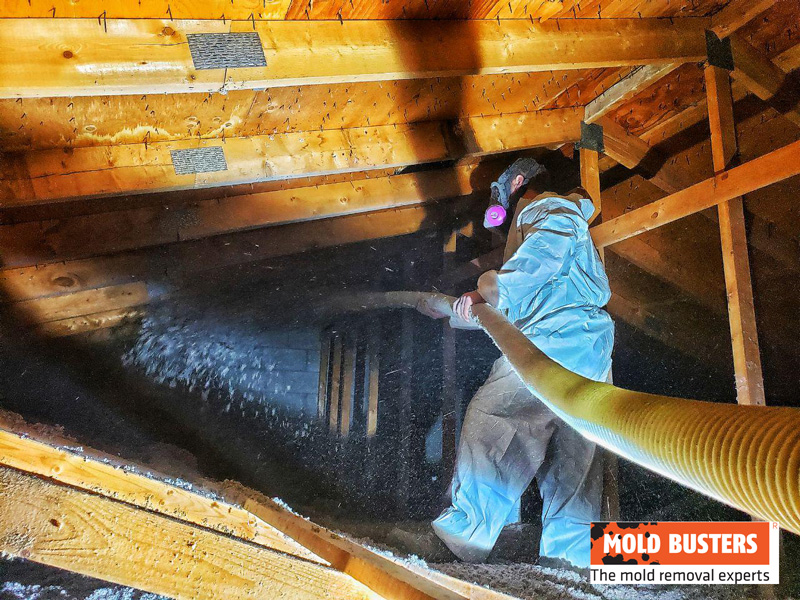 Types of insulation
The most commonly used insulation materials are cellulose, foam and fiberglass. You can find these in various forms such as loose fill, rolls and batts, foam board, spray board and vapor barriers.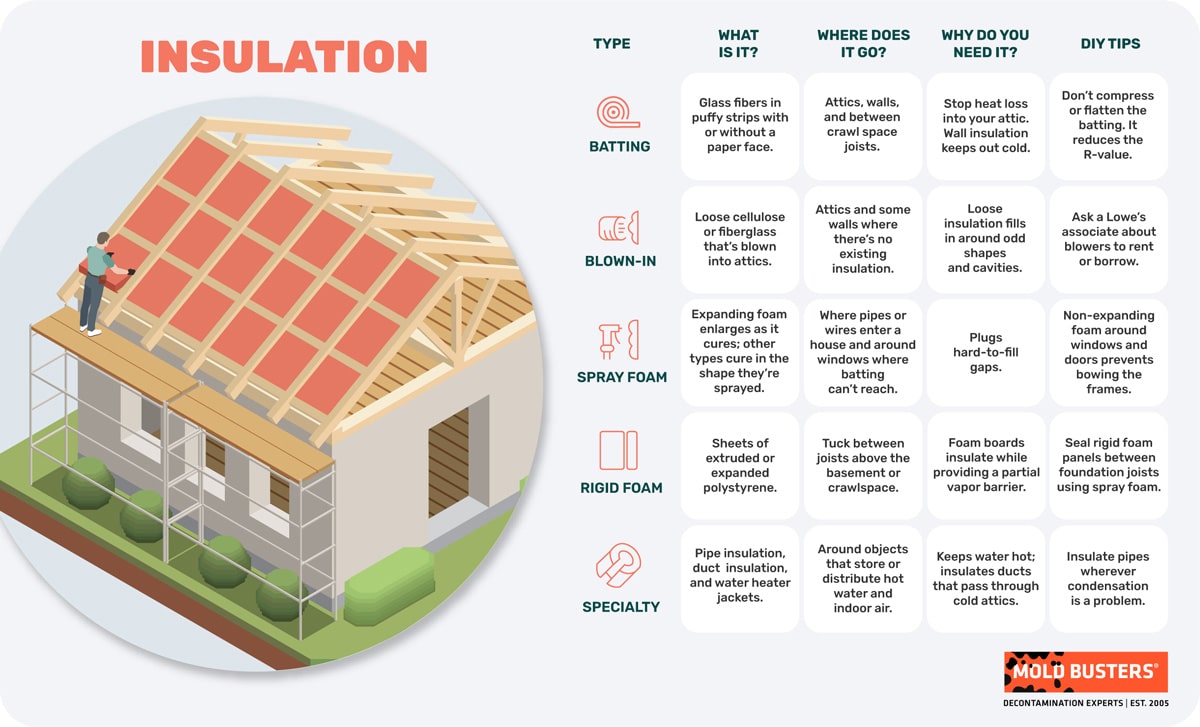 The type of insulation you need for your home depends on a number of factors:
What space you're trying to insulate
The type of insulation that's presently installed there (if any)
Your desired R-value
Because every home is different, an initial insulation inspection is required before any definitive course of action can be taken.
Why choose cellulose insulation?
Cellulose insulation (also called blown-in insulation) is composed of recycled paper fibre. It has numerous advantages over other types of insulation, which is why it is our method of choice for residential insulation installation, especially when it comes to attics.
Benefits of blown-in cellulose insulation
Cellulose insulation is inexpensive
Blown cellulose allows you to access spaces that are otherwise hard to reach (attics, tight corners, stud cavities, etc.)
Easy and accurate installation using insulation blowers
Blown insulation is a great way to patch up small holes and crevices
Cellulose insulation is treated with mold-resistant agents to protect you from black mold contamination
Blown-in cellulose is also great for soundproofing and fireproofing
Cellulose insulation is made from recycled materials and is therefore a great eco-friendly option
No dangerous offgassing as with spray foam insulation
No risk of airborne fibres as with fiberglass
Can be installed over existing insulation
Keep your home safe and warm this winter—call Mold Busters for professional insulation installation.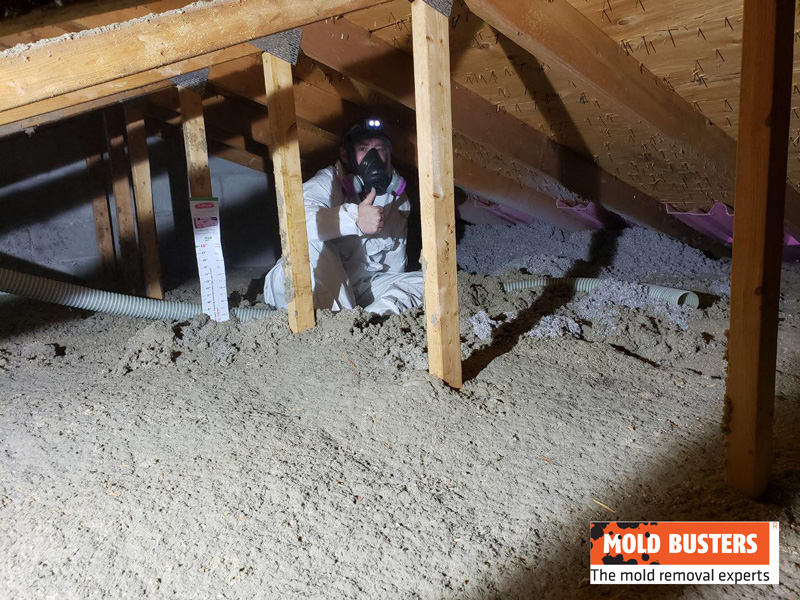 Attic insulation in Ottawa
Having a properly insulated attic is essential to keeping energy consumption down, especially during Ontario's long, harsh winters.
In Ottawa, homeowners can easily spend hundreds of dollars per month heating their homes during the winter. Multiply that by 6 (the number of months Ottawa typically experiences below zero temperatures), and you've got a huge hole in your wallet.
Whether you're using electricity or natural gas to heat your home, chances are your home is not as energy efficient as you would like. And while we can try lowering our thermostat a couple of degrees, you shouldn't have to sacrifice your comfort just to save a few bucks. A much more practical and effective solution is insulating your attic, which can drastically lower your energy bills.
Don't throw your money away. Investing in attic insulation is one of the best decisions you can make for your Ottawa home and for your wallet. Contact Mold Busters about our attic insulation services in Ottawa.
DIY or professional attic insulation installation?
So you've decided to insulate your attic. Sure, you can buy a bunch of loose-fill insulation and rent a blower machine from your closest home hardware store, but then what?
Do you know what kind of insulation you need? Do you know how to calculate how much of it you need or even how to operate the insulation blower? Do you know which areas of your attic should be covered in order to maintain adequate ventilation? What about R-values?
These are all things that can compromise the overall effectiveness of your attic insulation and lead to problems if not done properly.
A professional insulation contractor will take care of all aspects of the insulation installation for you, including choosing the right type of insulation for your attic as well as ensuring that ventilation vents are still allowing moisture to escape your home.
So before you start throwing insulation batts into random parts of your attic, plan ahead. And if you feel overwhelmed, call an insulation professional!
Insulation rebates in Ontario – 2019
There's good news for Ontario homeowners! Government funding is available if you are looking to renovate your home, especially when it comes to improving energy efficiency. Below is a brief overview of available programs.
Enbridge Home Efficiency Rebate
Ottawa homeowners looking to install new insulation or upgrade existing insulation in their homes are now eligible for a $5000 rebate from Enbridge. The Home Efficiency Rebate encourages Ontario homeowners to make their homes more energy efficient by undertaking two or more eligible energy efficiency upgrades in their home and getting up to $5,000 back.
Energy efficiency upgrades that are eligible:
Insulation-related upgrades: attic insulation, basement insulation and wall insulation
Non-insulation-related upgrades: water heater replacement, window and door upgrades, furnace/boiler replacement
See full details about the Home Efficiency Rebate.
Enbridge Home Winterproofing Program
With this program, eligible Ontario residents can have their home winterproofed for free. This amounts to savings of 30% on winter energy costs and includes installation of additional insulation and free draft proofing.
The primary eligibility criteria states that applicants must have:
A home that was built before 1980
A low income
An Enbridge account
Find out if you are eligible here!
Hydro One Home Assistance Program
Eligible homeowners can receive free home upgrades including insulation installation, energy-efficient appliances and energy-efficient lightbulbs. Ultimately these upgrades will also result in greater savings on monthly electricity bills.
See Hydro One for full eligibility details.
Ontario Renovates
Although not developed specifically for energy-efficiency upgrades, the Ontario Renovates program does provide limited funding and forgivable loans to low-income households, seniors and people with disabilities making repairs and accessibility modifications in their home. Some of these repairs must use energy-efficient products. Learn more about the Ontario Renovates funding.
Insulation Service Near Me in Ottawa
Insulation Service Near Me in Montreal