Vermiculite Removal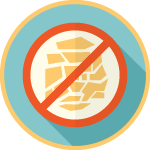 Ottawa & Montreal
Vermiculite is a naturally occurring mineral that has the desirable property of being heat resistant. This makes it an excellent insulator, which is why it's so frequently used in construction materials and attic insulation.
However, vermiculite can be a source of major concern for three reasons:
Asbestos contamination
Energy loss
Mold problems
At Mold Busters, we can test your vermiculite insulation for asbestos and provide complete vermiculite removal if the results come back positive. Contact us in Ottawa or in Montreal for immediate service.
Asbestos in vermiculite insulation
Of primary concern here is vermiculite insulation produced by a mine in Libby, Montana and sold under the brand name Zonolite or Zonolite Attic Insulation. Although this type of insulation has not been on the market in Canada for over 10 years, many older buildings (those built before 1990) may still be at risk.
To reduce your chances of asbestos exposure and the risk of developing serious diseases like mesothelioma, asbestosis and lung cancer, get your vermiculite Zonolite insulation removed professionally. This is especially true if you want to sell your home, as the presence of vermiculite may affect the success of the sale.
Call Mold Busters today for fast and professional Zonolite insulation removal.
Old insulation and energy loss
Aside from protecting yourself against asbestos, your should also consider removing your insulation if it's old, damaged or missing. Old insulation tends to be inefficient and often leads to energy loss because it lets conditioned air leak out of your home. This is especially true with old roof insulation.
To increase the air tightness of your home, decrease energy loss and improve overall energy efficiency, remove your old vermiculite roof insulation and install new insulation. This will undoubtedly decrease utility bills and increase comfort in your home.
Ready to get started? Give us a call and schedule your appointment!
Vermiculite insulation, water damage and mold
When it comes to vermiculite roof insulation, another big concern for homeowners is toxic black mold.
Mold loves moisture. Mold also loves organic materials. Since vermiculite is an organic material that's often found under leak-prone roofs, it's easy to see how and why black mold growth often occurs in attics (e.g. when water penetrates through damaged shingles).
And because insulation is typically hidden (in your attic or behind drywall), the mold problem often goes undetected, allowing mold to completely destroy the insulation, wooden beams, walls and other structural components of the home.
When this happens, you need to remove the vermiculite insulation ASAP. You need the help of an experienced professional. Call Mold Busters and ask about our vermiculite insulation removal services.
Fast. Safe. Affordable. That's how all Mold Busters clients describe our services.