Disinfection Service in Ottawa & Montreal
Now more than ever, Ottawa and Montreal residents are seeking professional help to clean, sanitize and disinfect their homes and businesses. A clean, healthy and safe indoor environment has always been our top priority even before the coronavirus (COVID-19) pandemic.
Professional disinfection kills viruses, bacteria and mold
Whether you're concerned about the coronavirus (COVID-19), the seasonal flu, allergies, black mold or any other indoor health threat, the best thing you can do to protect yourself is to keep your indoor environment clean.
From strict containment procedures to industry-grade disinfection equipment, we go above and beyond to remove harmful indoor air pollutants from your indoor environment. Call us at 1-877-566-6653 to learn more!
Why hire a disinfection professional?
Evidence shows that most viruses remain on your hands for 5-15 minutes and on hard, non-porous surfaces for days. (1) But a lot can happen during this time. Think about all the things you might touch: your eyes, nose or mouth; food; door handles; light switches; your phone; your computer; and so on.
This is why cleaning and disinfecting your home yourself is not very realistic (especially if you have small children!). How can you remember every item you've touched, not to mention be able to see where germs have spread via sneezing and coughing?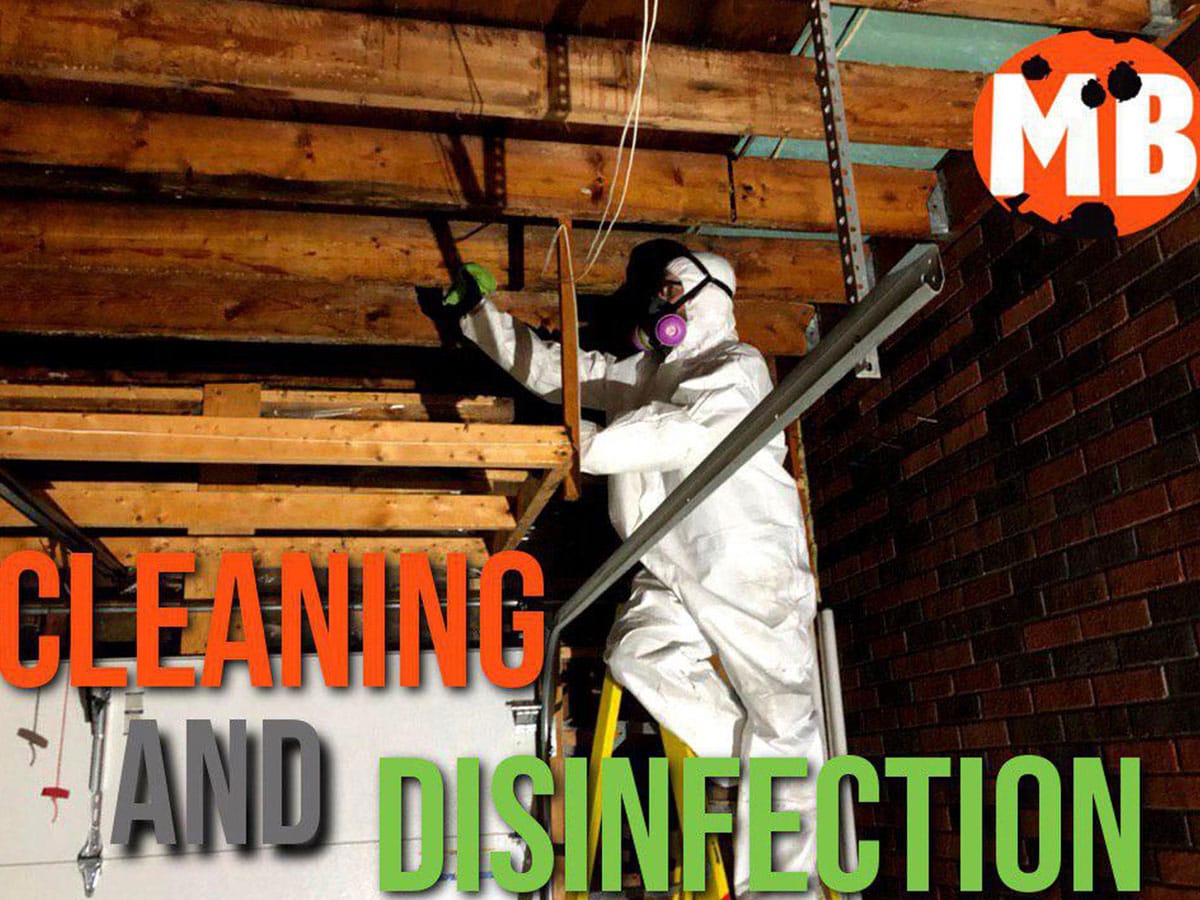 Frequent hand washing and wiping of surfaces with disinfectants is simply not enough if you want to stop the spread of disease. Just think how many times have you gotten sick after someone in your house has been ill, regardless of how much you've cleaned and wiped and disinfected!
The truth is that good hygiene habits, in combination with professional disinfection, is the best way to prevent disease and maintain healthy indoor air quality. Discuss your needs with an indoor environmental professional today.
Mold Busters Celebrates 15+ Years in Disinfection Business
Common Disinfection FAQ's
When should I disinfect or clean?
Regularly scheduled cleanings should already be implemented to keep your home or work environment hygienic and safe for occupation. However, in light of recent events with COVID-19, we recommend increasing the frequency as a precaution. In particular, always have a deep cleaning and disinfection performed if someone is exhibiting symptoms of illness or has demonstrated unhygienic habits. The risk of transmission between individuals has never been higher in most circumstances, so it's better to overcompensate than do too little!
What's the difference between disinfection and sterilization?
While both are processes that involve decontaminating an area, disinfection involves minimizing the risk of spreading already present microorganisms and attempting a targeted deep cleaning. Sterilization, on the other hand, involves eliminating all possible microorganisms – we see this in practice in local hospitals and other similar facilities, especially when it comes to touchpoints and medical equipment.
How come proper cleaning, sanitization and disinfection are so important?
It's very easy for someone to spread a virus to others, especially in high-traffic environments such as kitchens and offices. For instance, if someone with a virus coughs and those infectious airborne droplets land on a doorknob, then every single person who touches it is at a very high risk of contracting the same illness. This is why we are deemed an essential service during the COVID-19 outbreak; having professional disinfection and cleaning services can literally save lives.
Why should I consider Mold Busters for disinfecting my property?
Our team is fully certified by the IICRC and RBQ and, in light of the COVID-19 pandemic, we also strictly adhere to InterNACHI safety guidelines. Combined with our use of fully protective apparel and industrial-grade disinfection equipment, we enable a stress-free and dependable cleaning while minimizing your risk of picking something nasty up. With an immediate response to critical needs, we're here for you.
---
Who should get professional disinfection services?
Microorganisms thrive indoors so disinfection is always a good idea no matter what kind of property you have. However, during an epidemic or pandemic, public places that hold large crowds of people are of particular concern.
Our disinfection clients include:
Our Service Areas for Disinfection
During the COVID-19 pandemic, we are working tirelessly to make sure that all our regular service areas across Ontario and Quebec remain open. Here is an updated list of locations that we will continue to serve for the time being:
Ontario Locations
Quebec Locations
References:
Safespace February 2018, How Long Can Germs Live on Surfaces?, Safespace, accessed on 12 March 2020, safespaceco.com.