Cold Room Ventilation in Ottawa and Montreal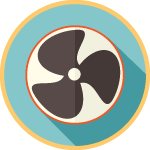 Cold room ventilation is something that few people know much about and even fewer people do properly. In fact, most people in Montreal and Ottawa tend to completely ignore their cold storage rooms simply because they're not a frequently used or essential part of a house.
However, cold rooms, like any other room in your home, require regular maintenance and upkeep. Part of that maintenance is ensuring proper cold room ventilation.
Proper ventilation is crucial to preventing condensation in cold storage rooms. Otherwise, you could find yourself face-to-face with a serious mold and indoor air quality (IAQ) issue.
For many it's obvious why a cold storage room should be well maintained. Often built without inadequate ventilation, this dark room can quickly become humid and a perfect incubator for mold. A problem like mold or condensation may not always be obvious, but left untreated can quickly become a very expensive problem to fix.
Regular ventilation can extend the lifespan of your cold storage room almost indefinitely, and prevent you from the loss of goods inside.
Imagine walking into your cold storage room one day and finding all your goods infected with mold.
At Mold Busters, we'll use our infrared cameras to inspect your cold room for defects like air leakage, moisture intrusion, missing insulation and improperly installed vapour barriers, all of which contribute to mold growth. We'll then be able to put in place an effective solution for your specific ventilation needs.
So, if you have a cold storage room and are worried about potential mold problems, contact Mold Busters today. Now servicing Ottawa, Montreal and surrounding areas.