Basement Ventilation in Ottawa and Montreal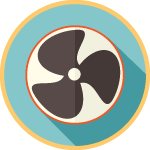 Basements are some of the most poorly ventilated rooms in a house. They're cold, dark, musty and, because of their location below ground, they are also highly prone to moisture intrusion, high humidity and condensation.
These consistently cool and wet conditions make basements hotspots for mold and mildew problems as well as musty odours. That's why basement ventilation in Ottawa is a service of ours that is always in demand–the same goes for basement ventilation in Montreal.
An efficient ventilation system will expel stagnant or polluted air from inside and bring in fresh, clean air from outside. It will help eliminate odours, lower humidity, and keep allergies and asthma at bay.
Call Mold Busters today to learn about our various options for basement ventilation. We work fast, using today's best equipment to achieve fresh, clean and healthy air.