Moisture Control in Ottawa and Montreal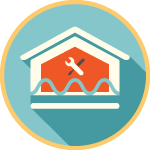 At Mold Busters, we talk a lot about moisture because we want people to realize just how important moisture control is to preserving a healthy indoor environment.
Moisture can lead to major problems very quickly. Black mold, rotting of structural elements of the building and decreased indoor air quality can all occur within hours of a water intrusion, compromising your health, comfort and safety while, at the same time, causing costly damage and repairs.
The risk of leaks, moisture intrusion and flooding is especially high in areas that are below grade. That's why it's important to protect areas like your basement, crawlspace and cold room. Leaks are also very common in bathrooms and kitchens due to runny faucets, old pipes, clogged drains and poor ventilation.
And let's not forget that moisture doesn't always take the form of a liquid (i.e. water). In fact, humidity, steam and water vapour are all equally destructive forms of moisture, which often go undetected.
If you're worried about a moisture issue in your home, don't hesitate to get professional help. Contact Mold Busters–we're certified flood restoration technicians and mold experts.