EZ Breathe System in Ottawa and Montreal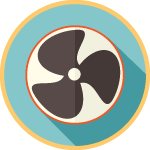 Proper ventilation is extremely important to maintaining a healthy home.
The fact is that poor ventilation and air exchange can worsen indoor air quality by allowing contaminants like mold, VOCs, radon, toxins and allergens to build up. This can have both short-term and long-term effects on your health.
The solution is simple. The EZ Breathe system is the most powerful dehumidifier, air purifier and ventilation system available on the market today.
It helps reduces humidity, prevent mold and mildew, eliminate odours, and remove unwanted pollutants like bacteria, pollen, dust and odours from your indoor air.
If you live in Ottawa, Montreal or surrounding area, call Mold Busters today to get your EZ Breathe. Free installation is included with every unit!