Air Duct Cleaning Services in Ottawa & Montreal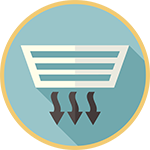 Air ducts represent an important part of HVAC (heating, ventilation, and air conditioning) systems, so proper maintenance is a must.
An air duct system is to your home what the human respiratory system is to the body—expelling stale air and delivering fresh air necessary for normal functioning. However, ducts can sometimes contain particles and pollutants that are dangerous to your health, such as mold and asbestos. If you breathe them in, they can trigger allergies, respiratory problems or even more serious illnesses. This is why home duct cleaning should be performed if you have any reason to suspect poor air quality.
It is a well-known fact that one of the greatest modern world health issues is indoor air quality (IAQ). The ugly truth is that pollutants are lurking in the air all around us, and for this reason, we need to ensure that, at the very least, our homes have the best quality air conditions. If you feel any discomfort due to poor IAQ, vent cleaning can offer some relief.
Health Effects of Poor IAQ
If you are experiencing ongoing health problems that have reason to believe that they are caused by a compromised ventilation system, it is time to contact a professional duct cleaning service. The following health reactions could be connected to dirty air ducts:
1Allergies: According to research, one in six Canadians experiences occasional allergic rhinitis with the highest number of people found in Ontario. Allergy season usually begins in spring and ends in fall, which is a long period to wait, hoping that allergens will disappear by themselves. Thanks to mold, dust mites and pets, sometimes your are more likely to get sick from the allergens inside your own home than the ones outside.
2Asthma: Not only can allergic reactions lead to sneezing and burning sensations in your eyes, but in certain situations they may worsen asthma, which might appear in 38% of people with allergic rhinitis. It is a well-known fact that dust and mold are one of the substances that can set off asthma attacks.
3Irritation: If you experience irritation in your eyes, nose, throat or skin, perhaps you need air ventilation cleaning. Itching and burning sensations are never a good sign, so checking your ducts by professionals could help detect the cause of your symptoms. Occasional inspections to confirm or deny presence of dust, bacteria, and fungi in the ductwork will not do you harm.
4Sinus issues: If pollutants are present in your duct system that means they're also present in your home, and thus, the air you breathe. In addition to their persistence, infected sinus channels can lead to respiratory complications and long-term treatment.
5Other health problems. Besides the ones mentioned, there are numerous other health problems that signal the need for air duct cleaning. Some of those are:
Dry cough
Headaches
Nausea
Ear infections
Skin rashes
Watery eyes
Flu-like symptoms
Respiratory infections