Water Damage Restoration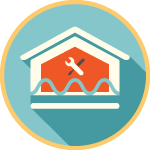 Ottawa & Montreal

Flooding in your home or office can leave you feeling devastated and overwhelmed. When it comes to repairs, sometimes it's difficult to know where to even start.
However, you need to act fast. If you ignore water damage and put off flood restoration, you risk incurring even greater damage to your property.
At Mold Busters, we offer comprehensive water damage restoration in Ottawa that includes
Initial inspection and assessment
Water extraction
Damaged ceiling and wall repair
Flooded basement restoration
Dehumidification
Deodorization
Drying
Mold remediation and air quality testing
Proper disposal of water-damaged or contaminated materials
We are certified water restoration technicians who follow ANSI/IICRC S500 guidelines for professional water damage restoration.
Whether it's an overflowing toilet in a bathroom, a leaking pipe in the kitchen or a treacherous storm that floods your basement, we'll be there to fix the problem quickly, effectively and safely.
This service is not available only in Ottawa—we offer the same high-quality water damage restoration in Montreal. Book your appointment now!