Win Free Mold Remediation Service with Canada's Bust Mold Initiative
Welcome to Canada's "Bust Mold" Initiative, established by Mold Busters—one of Ontario and Quebec's leading mold removal companies.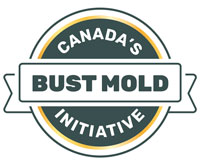 Each month, we will randomly select a household to win up to $5000 worth of mold remediation!
The initiative aims to support households that have mold problems but may not be able to afford professional remediation. It is the first of its kind and is available in all of Mold Busters' service areas.
Here's How to Get Rid of Mold in Your House for FREE
To get started, review the eligibility criteria to make sure that you qualify. Once this is done, you can fill out the application and await the monthly draw.
We will announce the winner across all our social media channels so make sure to keep following us!
Are You Eligible to Win a Free Mold Remediation for Your Home?
Mold Busters would like to keep this contest open to as many people as possible, which is why we have only a few eligibility requirements. We encourage anyone struggling with mold in their home to apply for a chance to win.
Eligibility Criteria
New customers only.
Must own the property.
Residential properties only.
The property is located within a Mold Busters service area.
Don't have a mold problem? Share with friends, family members, colleagues, etc. Anyone can apply!
Contest Rules
Only one person per household can apply.
Cannot apply more than once.
The maximum amount covered by the initiative is $5000 and does not apply to post-remediation restoration costs.
Mold Busters reserves the right to use any images and videos taken at the jobsite for promotional purposes. (Privacy will be respected at all times.)
A score of work inspection by our certified indoor environmental professional will be required at the outset of project planning and deployment.
About Mold Busters
Mold Busters has been providing professional mold testing, inspection, and remediation services across Ontario and Quebec since 2005. Our mold remediation technicians have years of industry experience and are fully certified by the Institute of Inspection Cleaning and Restoration Certification (IICRC), the National Association of Mold Professionals (NAMP), and the Int'l Association of Certified Home Inspectors (InterNACHI).
In light of the pandemic and the financial uncertainty it has caused many communities, we want to support families in their efforts to create healthy and safe indoor living environments for their loved ones. As always, our goal is to improve quality of life through quality of service.
Application Form