Skilled Labourer – Drywall Installer and Finisher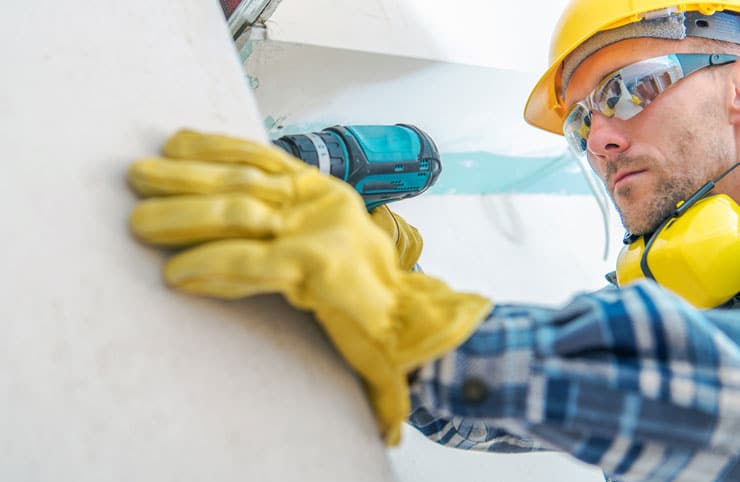 Mold Busters is looking for a Drywall Installer to join our expanding Rebuild team. Since 2005, Mold Busters has been Ontario and Quebec's go-to air quality testing and mold remediation company, from the initial inspection to the final remediation and disinfection. We are now looking to add another talented and reliable individual to our post-remediation rebuild team.
Responsibilities
The ideal candidate will be a handyman with expertise in drywall installation. They must be able to manage project timelines and ensure quality in all aspects of the rebuild process in both residential and commercial properties. Effective communication with team members is a must in order to complete projects on time and deal with any unforeseen obstacles that may arise.
Daily tasks may include, but are not limited to:
Drywall installation / drywall repair (measuring, cutting, fitting and installing drywall sheets)
Patching / caulking;
Plastering;
Framing;
Insulation installation (batt/fiberglass);
General carpentry;
Maintenance work and general home repairs; and
Standing for extended periods; bending, crouching or kneeling; repetitive tasks; and handling heavy loads.
As a Drywall Installer and Finisher, adherence to our Health and Safety Policy is crucial to ensure a safe and healthy work environment for all team members.
Requirements
Minimum high school diploma;
Basic construction skills;
Superior organization and time management;
Effective communication with team members;
Creative problem-solving skills (ability to look outside the box for solutions to problems that may arise);
Ability to perform physical work for extended periods;
Pass background security check;
Have valid driver's licence, insurance and own transportation; and
Provide references and/or portfolio of work.
While experience in home repair, improvement and remodelling is an asset, it is not mandatory as training will be provided on site. Personal Protective Equipment (PPE) will also be provided.
What's in It for You
This is a one-of-a-kind opportunity to be part of a growing team that supports leadership, professional development and career growth. Here are some more reasons to work at Mold Busters:
Flexibility (full-time or part-time options can be negotiated);
Training, education, and certification provided;
All equipment provided; all expenses paid;
Leadership is valued and rewarded;
Plenty of opportunity for career growth; and
A collaborative team where you will be truly valued.