Eco Renov vs Mold Busters Montreal
Deciding Between Mold Busters Montreal and Eco Renov
When faced with mold issues, finding the right mold removal and inspection company is crucial for ensuring a safe and healthy living environment. Mold Busters Montreal and Eco Renov are two leading companies in Montreal that provide professional mold removal and inspection services.
In this comprehensive guide, we will help you decide which company best suits your needs by comparing their operating hours, range of services, accreditation, customer reviews, scheduling options, and customer benefits. Armed with this information, you'll be better equipped to make an informed decision that addresses your mold removal and inspection needs.
10% OFF
Schedule services online and save!
Available for home owners, landlords, businesses & property managers. If you are a tenant, please call to schedule your appointment.
YOUR PROMO CODE
MARCH10
Valid until March 31st, 2023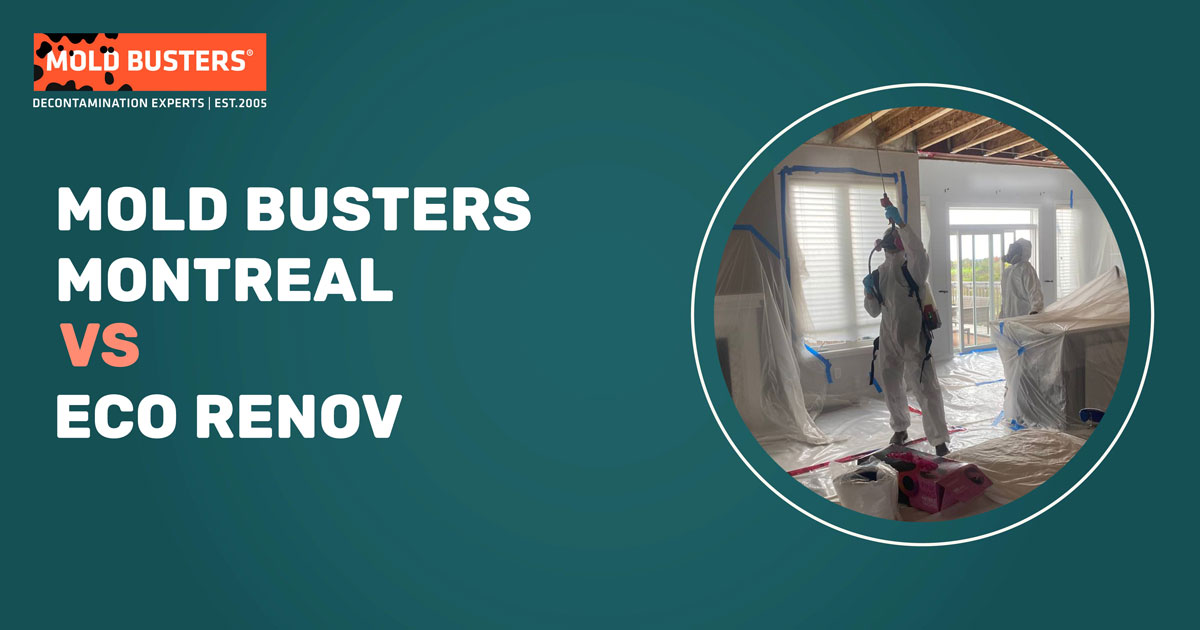 Comparison Table
Mold Busters Montreal
Eco Renov
Company Profile
Operating Hours
24/7
Mon to Fri-7:30am-5:30 PM
Services
Virtual Inspection, Mold Inspection, Odour Inspection, Visual Inspection, Air Quality Testing, Mold Testing
Mold Inspection, IAQ, Mold Removal, Asbestos and vermiculate testing and removal, Attic and basement insulation
BBB Accredition
YES
No
IICRC Certification
YES
Yes
Licensed and Insured
YES
Yes
Years in Business
17
14
Customer reviews
4.6/150
77 (4.9)
Number of employees
25
/
Scheduling Options
Phone Call
YES
Yes
Online Booking
YES
No
Live Chat
YES
Yes
Customer Perks
Free Inspections
YES (Virtual Assessments)
Yes
Remote Inspections
YES
No
Full written reports
YES
Yes
Customer Support
YES
Yes
Live Chat Support
YES
Yes
Price Match Guarantee
YES
YES
Financing Options
YES
No
Discount Options
YES
No
Discretion & Client Confidentiality
YES
Yes
No scare tactics
TRUE
True
Inspector tracking
YES
/
Same Day Inspections
YES (Virtual Assessments)
No
Unbiased and Clear Information Gathering Process
---
To provide the most accurate and unbiased comparison between Mold Busters Montreal and Eco Renov, we've meticulously gathered information from various sources such as the companies' websites, customer reviews, industry certifications, and accreditation bodies. This ensures that the information we present is both trustworthy and up-to-date.
By examining each company's range of services, pricing, customer benefits, and overall experience, we aim to offer a comprehensive overview that allows potential clients to make an informed decision based on their specific needs. We strive for transparency in our comparisons to help you choose the mold removal and inspection company that best aligns with your requirements and expectations.
Company Profile: A Closer Look at Mold Busters Montreal and Eco Renov
Operating Hours: Always Open vs Standard Work Hours
Mold Busters Montreal provides 24/7 service, ensuring that you have access to their professional services at any time, day or night. This is particularly useful for emergencies or unexpected mold situations. On the other hand, Eco Renov operates from Monday to Friday, between 7:30 am and 5:30 pm, catering to clients during standard working hours.
Services Offered: Comprehensive Solutions vs Specialized Expertise
Mold Busters Montreal offers a variety of services, including virtual inspection (free), mold inspection, odour inspection, visual inspection, air quality testing, and mold testing. This diverse range of services ensures that they can tackle a wide array of mold-related issues. Conversely, Eco Renov focuses on specialized expertise, offering mold inspection, indoor air quality (IAQ) assessment, mold removal, asbestos and vermiculite testing and removal, and attic and basement insulation services.
Accreditation and Certification: Reputable Credentials
Both Mold Busters Montreal and Eco Renov are IICRC certified, licensed, and insured, ensuring that they meet industry standards and maintain professional credentials. However, Mold Busters Montreal stands out with its BBB accreditation, which signifies its commitment to resolving customer complaints and maintaining high-quality services.
Customer Reviews: Satisfied Clients
At the moment of writing, Mold Busters Montreal has a 4.6-star rating based on 150 reviews, while Eco Renov has a slightly higher 4.9-star rating based on 77 reviews. Both companies have received positive feedback from their clients, indicating that they provide quality services and customer satisfaction.
Scheduling Options: Convenience and Accessibility
Both Mold Busters Montreal and Eco Renov offer phone call and live chat scheduling options, ensuring that clients can easily book appointments. However, Mold Busters Montreal goes a step further by providing online booking, which adds an additional level of convenience and accessibility for potential clients who prefer to schedule appointments through their website.
Customer Perks: Comparing Added Benefits
Free Inspections and Remote Options
Mold Busters Montreal offers free virtual assessments, allowing clients to get an initial evaluation without any cost. Eco Renov also provides free inspections, but they do not offer remote inspection options. This means that Mold Busters Montreal has the edge when it comes to providing flexible and cost-effective inspection solutions.
Comprehensive Reports and Support
Both companies offer full written reports, customer support, and live chat support, ensuring that clients are well-informed and can have their questions answered promptly.
Financial Incentives
Mold Busters Montreal goes above and beyond with several financial incentives, including a price match guarantee, financing options, and discount options. Eco Renov also offers a price match guarantee, but they do not provide financing or discount options. This makes Mold Busters Montreal a more financially attractive choice for clients seeking budget-friendly solutions.
Inspector Tracking and Same-Day Inspections
Mold Busters Montreal offers inspector tracking and same-day virtual assessments, ensuring that clients can monitor the progress of their inspections and receive prompt service. Eco Renov does not provide these features, which may be important for clients who value real-time updates and quick turnaround times.
Our Services in Montreal
Our most popular services include:
FAQ
Yes, both companies are IICRC certified, licensed, and insured. Additionally, Mold Busters Montreal has BBB accreditation.
Mold Busters Montreal has a 4.6-star rating based on 150 reviews, while Eco Renov has a 4.9-star rating based on 77 reviews.
Mold Busters Montreal is transparent about their inspection prices. Eco Renov does not provide a list of prices for inspections.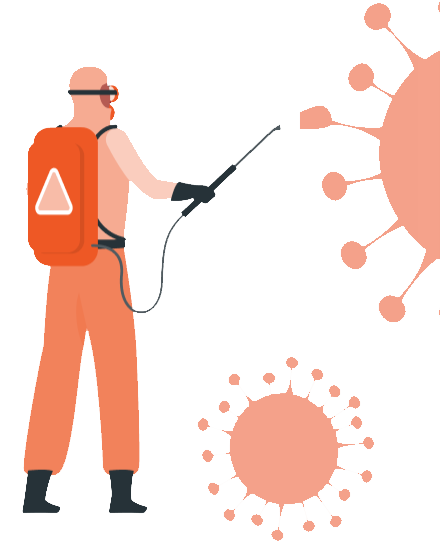 Conclusion: Making the Right Choice for Your Mold Removal and Inspection Needs
Mold Busters Montreal and Eco Renov are both reputable mold removal and inspection companies, each with their own unique advantages. Mold Busters Montreal stands out with its 24/7 availability, comprehensive services, and numerous customer perks. However, Eco Renov provides additional services like asbestos removal.
Ultimately, the decision will depend on your specific needs and priorities. Carefully consider the information provided in this article, and choose the company that best suits your mold removal and inspection requirements. Remember, the right choice will not only help you address your mold issues effectively but also ensure a seamless and satisfying experience.
Don't Hesitate – Act Now with Mold Busters Montreal's Free Virtual Mold Inspection
Mold problems can escalate quickly, leading to health issues, structural damage, and costly repairs. The longer you wait, the more severe these problems can become, making it crucial to take action at the first sign of mold. Fortunately, Mold Busters Montreal is here to help with their free virtual mold inspection service.
By utilizing Mold Busters Montreal's cutting-edge service, you can quickly assess your mold situation and determine the necessary steps to resolve it. Their team of experts will provide valuable insights and recommendations on how to tackle your mold concerns, all without any financial commitment. This means you can safeguard your home, protect your loved ones, and restore your peace of mind at no extra cost.
Don't let mold issues fester and worsen. Take control and reach out to Mold Busters Montreal today for a free virtual mold inspection. Experience the benefits of their expert advice and innovative service – it's just a click away. Act now, and start your journey towards a mold-free home with the help of Mold Busters Montreal.
Contact Us
Worried about mold, odour or other air quality issue? Contact us:
Info
Mold Busters Montreal. Quebec, Canada
Customer Service: 24/7
Inspection & Remediation: 8AM- 5PM
Comparing Mold Remediation Services in Montreal
When facing mold-related problems, it's essential to choose a trustworthy and experienced mold removal and remediation company in Montreal. We've compiled a comparison of Mold Busters Montreal and other prominent companies, including Eco Renov, Canada Restoration Services Montreal, and Espace Renovert, to assist you in making the right decision. Consult the table below and click on the links for detailed comparisons.:
By comparing these companies' services, you can gain a better understanding of the unique features and benefits that each company offers, ultimately helping you select the best mold removal and remediation provider in Montreal for your specific needs.